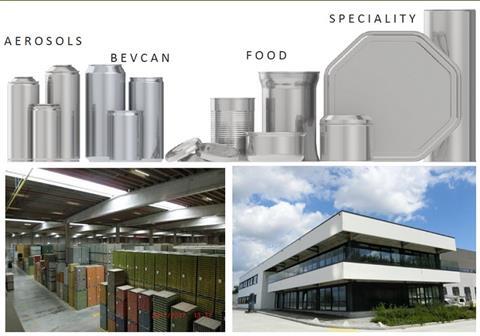 Crown Europe, part of Crown Holdings, Inc., is expanding the services offered by its aerosol printing facility in Hoorn, Netherlands and is reinforcing its strategic position in the food, beverage, household and personal care markets with a new logistics hub in Puurs, Belgium. These investments will support increasing demand in the Benelux region and Germany, as well as enhance the Company's distribution capabilities.
The new facility in Puurs is ideally located in the centre of the Benelux region, being a platform for Crown's customers in the area operating in the food, beverage and aerosols businesses. Developed in partnership with Gilbert de Clercq Transport Company, Puurs serves as a logistics centre to support customers' needs in the region. This will enable them to benefit from improved delivery timelines, as well as allowing access to technical and sales administration services. Along with enhancing operational efficiencies, the strategically located 23,000m² warehouse facility, built to BREEAM standard, offers added sustainability benefits, including reduced carbon emissions due to shorter journey lengths for the transportation of goods.
To further respond to market growth in the aerosols sector, the Company is also optimising its manufacturing footprint by consolidating its aerosol can production capabilities in the Hoorn, Netherlands print facility. The plant will supply 52, 57 and 65 diameter cans and will see additional capacity added in early 2018. Having print and manufacturing capabilities in one location will offer several benefits to customers, including shorter lead time.
"As one of the largest suppliers in the region, adding manufacturing capabilities in Hoorn and opening a logistics hub in Puurs shows our commitment to the area, along with strengthening our ability to deliver high quality packaging to our customers quickly and efficiently," commented Didier Sourisseau, President Crown Europe. "We look forward to continuing to support the growth of our customers in the food, beverage, industrial, household and personal care markets from these new locations."
Crown anticipates the new aerosol facility to be operational by first quarter of 2018. The Puurs hub is already in service.
More info: