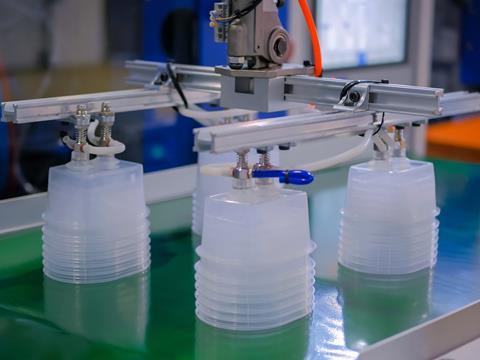 Companies from across the value chain, including Danone, Viridor, Sealed Air and Tomra, have joined a project to create food-grade packaging from recycled polypropylene.
The leader of the project, Nextek, says that PP packaging is currently either going to waste-to-energy, landfill or being down-cycled into low-performance applications, wasting precious resources.
This new initiative, called 'NEXTLOOPP', employs commercially-proven methods to separate food-grade PP using marker technologies. These include cutting-edge decontamination stages to ensure compliance with food-grade standards in the EU and the USA.
Major organisations including brand-owners, suppliers, universities and industry associations, through to end-users in the PP supply chain, have joined NEXTLOOPP to produce the high-quality, food-grade recycled PP, which will be available in the UK by 2022.
Commenting on the potential of the project, Professor Edward Kosior, founder and CEO of Nextek Ltd, says: "It will allow brand owners to meet their recycling targets and significantly reduce the use of virgin plastics from petrochemicals. It will also greatly reduce CO2 emissions and divert waste from landfill and waste-to-energy."
Viridor's director of business development for polymers, Luke Burgess, adds: "Viridor believes that extending its polymers expertise and recycling experience to cross-sector collaboration and innovation is key to ensuring more waste is valued as a resource and returns to the circular economy where it belongs.
"Reducing our reliance on virgin plastic not only empowers greater circularity, but the continued use of recycled material also offers significant energy savings, contributing to considerable wider environmental benefits for the UK."
Adam Elman, group sustainability director at Klockner Pentaplast, says: "Capturing the value of plastics by keeping them within the economy and out of our natural environment is key to meeting the Plastics Pact targets and very much part of our business strategy.
"Swapping the traditional 'take-make-waste' linear model for a circular system is also one of the many important steps towards significantly reducing our carbon emissions. We are proud to be working in collaboration with NEXTLOOPP on this important project."
As of 23 March 2021, 29 organisations across the PP supply chain have joined NEXTLOOPP. Other multinational companies are reportedly soon to join.