Over the past year, figures from across the value chain have argued that the role played by the packaging industry in society has never been more important, and nowhere is this more apparent than in the realm of consumer protection.
As consumer concern around personal health has grown due to the pandemic, the industry has adapted and innovated to meet changing expectations around exactly how a pack can help its user to stay safe. In this article, we'll look into some of the key innovations and developments from this field.
---
Dispensing
Hand sanitizer has now become a ubiquitous product in bags and on shop shelves across the world, and the task of dispensing it safely and efficiently has been taken up by our industry.
INEOS, the world's largest producer of high-purity synthetic ethanol, launched a new range of touchless sanitizer dispensers for the home and workplace in December. Features for this new product include touchless dispensing sanitizer, variable dosage settings, a rechargeable lithium-ion battery, and lights to indicate low battery life and low cartridge levels.
Also, with human contact in mind, Lifestyle Packaging introduced Snappd – a unique single-use mechanism that dispenses a single dose of hand sanitizer gel when it is bent in half with one hand. The product currently has three different material formulations – compostable, bio-based using renewable sources, and recyclable.
Meanwhile, industry stalwarts like Smurfit Kappa have been busy adapting existing designs to suit this new reality. Its Bag-in-Box range, which had in the past been used to package and dispense boxed alcoholic beverages, has been extended so that it can now dispense sanitizer. The product is suitable both for end consumers and as a retail solution.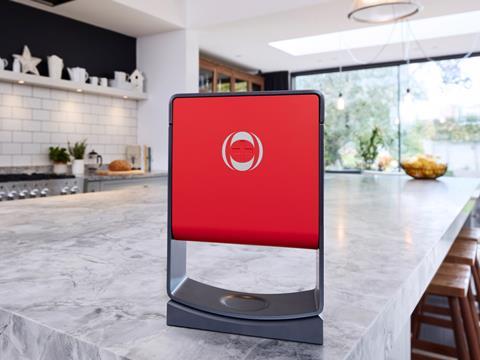 Reuse
Reusable and refillable packaging systems have been gaining momentum over the past few years, with some commentators describing them as the most viable long-term solution to the issue of packaging sustainability.
However, during the early weeks and months of the pandemic, stories emerged regarding the coronavirus being transmitted via surfaces and packaging, which raised questions about the safety of reusable packaging. Indeed, chains such as Starbucks went so far as to ban the use of reusable packaging in-store for a period of time.
These concerns prompted bodies like EuPC to urge the EU to postpone its Single-Use Plastic Directive, saying: "The EU Commission did not take into account the hygienic consequences of banning or reducing single-use plastics. We are, and will be, in a completely different world where hygiene and consumer health will be the number one priority for all of us."
Now that the world has come to grips with many of the effects of the pandemic, bodies like the WHO and FDA have concluded that the chances of transmission via surfaces are low, especially given the existing rigorous cleaning and sterilization processes associated with reuse systems.
In light of these learnings, key retailers and brands now seem to be embracing reusable systems even more keenly than before. In 2020, British retailer Marks and Spencer expanded its grocery refill concept to more stores, and Carrefour became the first retailer to offer Loop's reuse system in-store. Meanwhile, P&G Beauty announced the launch of its first refillable bottle system at scale, and Unilever launched its biggest refill and reuse trial in Europe.