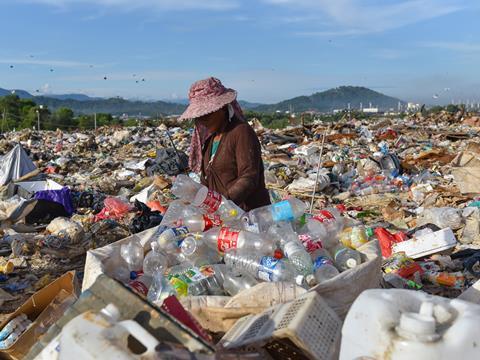 Rob Opsomer, Executive Lead of Plastics and Finance at the Ellen MacArthur Foundation, urges governments and policymakers not to miss a once-in-a-generation opportunity to establish a bold global treaty to end plastic pollution.
Plastic pollution is everywhere. It's floating in our rivers, littering our streets, invading our most precious wild spaces, and even entering our bodies. It shouldn't be there, and it doesn't have to be.
But progress made through the Global Commitment – the biggest global voluntary effort to tackle plastic waste and pollution – gives me hope. Learnings from our recently released Global Commitment: Five Years In paper show that it is possible to make meaningful strides towards eliminating plastic waste.
Over the past five years, business signatories – representing 20% of the world's plastic packaging industry – have as a group significantly outperformed their peers when it comes to taking positive action to tackle plastic waste.
Leading signatories have substantially reduced their use of problematic and avoidable plastic items.
More than doubling their use of recycled plastics has resulted in the equivalent of a barrel of oil being left in the ground every two seconds – as well as avoiding 2.5 million tonnes of greenhouse gas emissions.
Progress, they have proven, is possible.
At the same time, it is clear that voluntary business action, while crucial, by itself is not sufficient to solve this crisis. A large part of the wider industry is not yet taking action. And even many of the businesses who have committed are not on course to meet all targets. Undoubtedly, more must be done before it is too late.
Around 25,000 flexible plastic packaging items, such as wrappers, pouches, and sachets, end up in the ocean every second. If we continue on this track, this number will double by 2040.
In a world that is still awash with plastic waste and pollution – posing a threat to nature, climate, and human health – it is imperative that we learn both from the progress made and from where it is lacking, so that we can move forward at pace.
We need more ambitious binding policy and regulatory measures alongside accelerated voluntary business action. It cannot be one or the other. Both parts are crucial.
In the coming weeks, two key policy developments offer us a real opportunity to make strides towards reversing the tide on plastic waste and pollution.
In the European Parliament later this month, the proposal for a Packaging and Packaging Waste Regulation will go to a vote. The regulation has the potential to drive huge – positive – change by helping the industry create enabling conditions to develop circular solutions, including reuse.
Outside of Europe, we also need ambitious legislation on a global level. Our team at the Foundation will gather along with over 150 countries in Nairobi, Kenya, for the third round of negotiations to establish a global treaty on plastic pollution. These representatives will be taking the next step on the path to end plastic waste and pollution.
The recently released 'Zero Draft' text for a Global Plastics Treaty is a solid start. Ending plastic pollution must be the ultimate goal made possible through the successful negotiation and ratification of this global treaty.
The outcome of this once-in-a-generation opportunity is yet to be decided. But to meet the scale of the challenge and accelerate global change, it is vital that the treaty contains legally binding global rules and all countries act in concert to unlock circular economy solutions and to end plastic pollution.
For companies, waiting for regulation cannot be an excuse for inaction. Businesses should continue to drive progress through voluntary action by innovating, showing what's possible, and creating demand for solutions, in complement to long-term policy change.
Equally, businesses need not wait for regulation to enable change, but can play an active role in advocating for it.
One way companies are doing this is through The Business Coalition for a Global Plastics Treaty. Convened by the Foundation and WWF, this coalition brings together more than 160 businesses across the plastics value chain, financial institutions and NGO partners.
They are collectively asking for a successful instrument that will tackle plastic pollution on different levels including the reduction of plastic production; circulation of all plastics that cannot be eliminated; and prevention and remediation of any remaining plastic pollution.
We cannot recycle our way of the plastic crisis. The treaty must also play an essential role in implementing and enforcing harmonised regulations to substantially reduce our use of plastics and kickstart a reuse revolution – fundamentally one of our best opportunities to curb plastic pollution.
If we are to have any ambition of sticking to the 1.5 degree pathway, we must massively reduce our use of virgin plastic and eliminate those plastics with a high probability of leaking into our environment. Combining mandatory design requirements with global infrastructure roll-out and Extended Producer Responsibility will allow us to keep plastics in circulation for much longer at their highest value.
We know there is still much work to be done, and we need to move faster. It will be hard, but we forge ahead – together – with much more clarity on what needs to be done and committed to the vision of a world in which plastic never becomes waste or pollution.
We have less than a year remaining to realise the once-in-a-generation opportunity presented by negotiations in Kenya.
With all eyes now on Nairobi, we simply have no time to waste.
If you liked this article, you might also enjoy:
The L'Oréal approach to packaging sustainability
What steps is Apple taking to make its packaging more sustainable?
How did Brazil achieve its 100% aluminium can recycling rate – and can it be replicated in the EU?
Experts have their say on the EU's Packaging and Packaging Waste Directive revisions