Alex Henriksen, MD Tetra Pak North Europe, talks us through the ways in which the packaging industry can help to establish a closed-loop economy.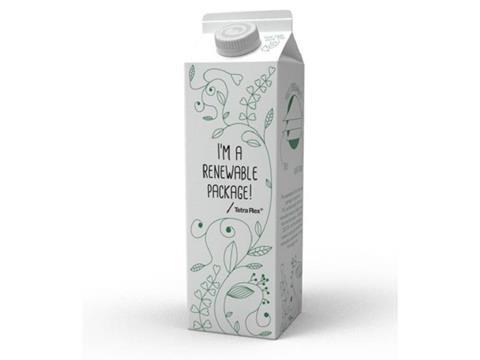 In July 2022, the UK and northern mainland Europe were struck by an unprecedented heatwave, with the hottest temperature in the UK recorded at 40°C. For many, this has been a wake-up call to take urgent action in mitigating climate change, with the Energy and Climate Intelligence Unit finding that 70% of people in the UK agreed that climate change was a driver behind these temperatures.
We are clearly not on track to limit global warming by 1.5°C, which can primarily be achieved through decarbonizing our energy systems and the materials we use. The only way to preserve our planet is to urgently limit the permanent drainage of our planet's fossil-based resources and put in place the steps to establish a circular economy. The packaging industry must play a leading role in this, with plastic packaging accounting for nearly 70% of plastic waste in the UK.
In tandem, with the global population expected to grow by more than 25% between 2020 and 2050[1], and 821 million globally currently undernourished[2], access to safe, nourishing food has never been more pertinent.
Businesses can be a force for good when it comes to addressing this delicate balance between sustainability and food security. We need high-performance packaging that can deliver safe and nutritious food that does not impact the world's limited resources. To do this, we need to consider the entire lifecycle of packages.
1. Making the most of materials
A package starts with the raw materials that make up its different components. How these materials are sourced and the impact this has on the environment is a critical part that needs to be considered when building a circular economy.
This means reviewing the efficiency of the materials we use to make food packaging. The industry must find alternatives to fossil fuel-based materials, and instead look to increase the use of renewable materials, such as paperboard and plant-based plastic, that come from sources which can be replenished over time.
Responsible sourcing should be a strategic objective for businesses where not only are ethics around material sourcing considered, but also the social and environmental impact it has. Having a positive contribution on the environment and communities across the supply chain must be taken into consideration. With renewable materials, products can have more of a positive environmental, economic and social impact and promote sustainable land use and biodiversity.
Using paperboard that comes from wood from responsibly-managed forests, for example, ensures circularity in the packaging supply chain. Tetra Pak is pioneering the use of plant-based, fully renewable materials in its cartons. Its Tetra Rex® Plant-based carton is the world's first fully renewable beverage carton. It is Forest Stewardship Council™ (FSC)-certified[3] and made entirely of paperboard, from responsibly managed forests and other controlled sources. The plastic is also plant-based, made from Bonsucro-certified sugarcane.
With the UK producing around 9.5 million tonnes of waste in 2018, the role packaging plays to keep food safe, secure and edible cannot be underestimated. Food security cannot be compromised, therefore, the plant-based materials used in packaging need to be capable of providing this, increasing the importance of innovative design. Addressing the need for less carbon intensive options, this year Tetra Pak is testing a fibre-based barrier to replace the aluminium layer in its aseptic packages. This marks another breakthrough in Tetra Pak's long-term roadmap towards developing an aseptic package that is fully renewable, fully recyclable and carbon neutral.
2. Earning consumers' trust and engagement
The Tetra Pak Index 2021 found that consumers are showing increasing environmental concern. UK respondents are in fact more worried about the environment now than they are about COVID-19 (63% versus 58%) – the only country where this is the case.
Consumer engagement is integral if we are to establish a fully closed-loop circular economy. They must be bought into it, informed during their purchasing decision and made aware of the recycling process. After all, a strong recycling culture amongst consumers helps to minimise waste and litter. However, it is when recycling is part of a holistic approach, factoring in renewable plant-based materials, teamed with effective infrastructure that it makes its biggest impact.
Consumers therefore need to trust and feel confident in using recyclable packaging, made from renewable materials. This requires transparency and means the industry must work with cross-sector stakeholders and third party organisations – like FSC™, Bonsucro Chain of Custody and other external certification programmes – to effectively show this across the supply chain.
This is also the case with providing more information to consumers on recycling. Progress will also be limited on this front unless consumers can be persuaded to actively engage with recycling processes. For example, our research last year found 58% of UK consumers don't understand what the Deposit Return Scheme (DRS) entails and 59% say they would be confused by it unless it was consistent with household recycling collections.
Packaging companies therefore have a responsibility to invest in consumer education, to encourage them to engage with recycling culture, refute common misconceptions and empower them to feel part of a positive change. Engaging with consumers on both the type of package they are buying, as well as how it can be recycled, are vital in delivering a circular economy. However, the best possible results can only be achieved with fully supportive recycling infrastructure.
3. Collaborating for an all-in recycling system
Recycling is often viewed as a cure-all for packaging waste management. But it can only boost recycling rates and support a circular economy if the corresponding infrastructure is consistent across areas and has the ability to sort carton packages more effectively for recycling.
When it comes to recycling infrastructure, packaging companies also have a part to play. In 2013, Tetra Pak supported the opening of a carton packaging recycling plant near Halifax, capable of recycling up to 40% of the cartons manufactured each year for the UK food and drink market.
However, with the EU committed to 65% of all packaging waste recycled by 31st December 2025, there needs to be a more consistent infrastructure – and cannot just rely on industry investment. This goes beyond what individual companies can do and requires cross-industry and cross-sector conversations and partnerships. Tetra Pak was recently involved in the signing of a letter to Environment Secretary George Eustice MP, from 20 cross-party MPs, appealing to the Government to widen the scope of materials included its proposals for a DRS. Policy therefore should be ambitious, creating an 'all-in' DRS that includes as wide a range of materials as possible, including cartons, to help improve consumers awareness and education.
A big challenge requires a big response
Tetra Pak is calling on a refocus on how the packaging industry addresses its role in delivering a circular economy – by not just focusing on waste management via an efficient and comprehensive DRS, but also through investing in research and development of plant-based, renewable materials in packaging design.
A big challenge such as this requires a big response. No business works in silo, and therefore when it comes to addressing climate change, this remains the case. This demands cross-industry and cross-sector collaboration in order to actually achieve a circular economy – and fast.
[1] https://sdg.iisd.org/news/world-population-to-reach-9-9-billion-by-2050/
[2] World Health Organisation (WHO)
[3] The FSC™ licence code for Tetra Pak is FSC™ C0140