When Joe Iles joined the Ellen MacArthur Foundation in 2011 as a recent graduate, the framework of the circular economy was still in its infancy. It had, of course, been established as a theoretical concept years before, but it was largely still that: a good idea. Now, this model has become much more central to the way that businesses and consumers operate, and the Foundation has been at the centre of that transition.
The organization defines the circular economy as a "systems solution framework" where materials are not discarded as waste as they are in a linear system like the one we have in place up today. A circular system requires eliminating waste upstream, circulating products and materials, and a focus on regenerating nature. The Foundation was established to promote and support the transition to this model by working with different stakeholders to "mobilise systems solutions at scale, globally".
Iles tells me that even though it may sound "a bit academic," this definition of the circular economy matters. "It's important that it's about systems- it's about thinking about the whole system, rather than just isolated parts," he says. "It's about solutions, so as a way to discover impactful and lasting solutions to the challenges that we face, and it's a framework."
According to Iles, this "framework" refers to a flexible way of thinking that can be adapted to the problem it is aiming to address, and to the environment in which this problem exists. "I think that part is important as well, because it's not a dogmatic checklist that you just look at your product or your portfolio and tick some boxes and you've 'done circular economy'," he explains.
Circularity in practice
"I often think back on the pattern of getting the idea out there, and there seemed to be three parts," Iles tells me. He says that when the concept of the circular economy was emerging, what people wanted to know was the theory behind it, whether it was going to be viable and profitable, and if there were already practical examples of it in action.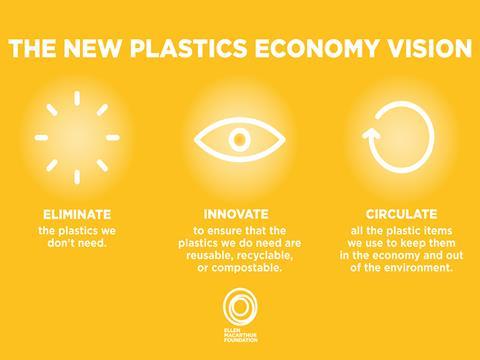 Despite this idea becoming much more mainstream in the past years, these still seem to Iles to be the three areas that people want to learn more about. Something else that has remained the same is the agreement that a circular model is better than a linear one, even if the road to it is not straightforward.
"I know that sounds super simple, but I don't think I've ever met anyone in my time at the Foundation, working on this topic, who has said that the linear economy is a safe bet for the future," he explains. "And I think it's important to come back to that, because we can and should debate the specifics- like how the transition happens and how we can make it happen faster, and how we can make it distributed, diverse and inclusive as a transition- but ultimately, I feel like it's something we have to do- and thankfully many agree," he adds. "It's just not feasible for us to continue this extraction and consumption model, which is causing such damage."
The Foundation had been established for six months when Iles started working there. At the time, he did not know a lot about the circular economy or, admittedly, the Foundation, "When I opened the door to my job interview, I looked inside and asked Ellen MacArthur, 'Is this the Ellen MacArthur Foundation?', which in hindsight, was not the smartest question," he tells me. Despite this initial stumble, Iles got the job. He worked on the Foundation's social media presence and founded the publication Circulate before taking up his current role leading the circular design programme.
Designing for the circular economy
"I've always really been interested in the moments or the interactions where the circular economy, being quite a complex idea- quite a theoretical or technical idea at times- becomes real and tangible for people," he says. From writing case studies to taking a more narrative approach to the circular economy and those working to realize it, Iles tells me that throughout his time at the Foundation, his aim has been to make the concept of the circular economy more accessible.
The role of designers in creating products that align with the principles of a circular economy has been apparent from the beginning, he says, and these are the people that his work focuses on now. "A few years ago, we asked ourselves, 'Well, if design is so important, how many designers are there?" The question that followed was: "Who are the designers- who are the people that influence materials flows?"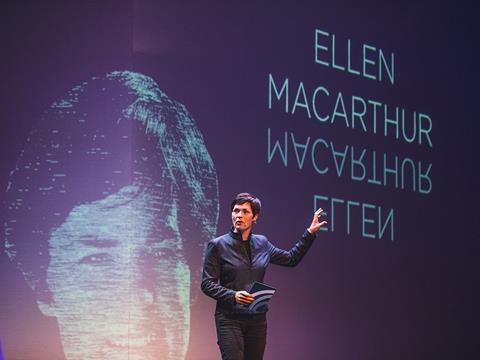 The Foundation estimates that there are 160 million individuals who impact material flows worldwide. "Many of them call themselves designers, but many more do not," he says. "They might call themselves architects, material scientists, product managers or business model innovators."
The circular design programme was set up to "equip and inspire those practitioners to turn their efforts towards a circular economy," Iles tells me. "I believe that we have many of the essential skills that we need to design for a circular economy, but the people that have those skills need the inspiration and the mandate to design for a circular economy as opposed to a linear one."
In 2020, the Foundation published The Upstream Innovation guide to help businesses understand and explore the potential of upstream innovation to tackle plastic waste. The publication also highlighted various examples of products across the three areas which it aimed to provide information and support on: elimination, material circulation and reuse. "I think the good news is that those solutions are becoming more day-to-day now, and more accessible," he explains. "It's really hard to keep up with the level of innovation that's happening."
Creating a landscape for packaging designers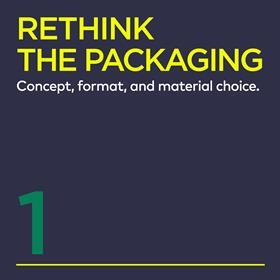 There are many clear incentives that are driving the speed of innovation: from the problem of pollution and the opportunities that come with collecting and reusing materials, to existing and upcoming regulations. But transitioning to reuse models can still be a complicated process for businesses, and designers are often having to navigate a landscape strewn with unknowns. "The space to invent and explore I think is really needed," Iles comments. He adds that there is also a "perceived lack of readiness" that can sometimes underlie the conversation around innovation.
"Just talking specifically about the packaging industry, we held a number of interviews with our network in creating the upstream innovation guide," he explains. There were certain learnings that emerged from these interviews. Firstly, what was highlighted was the importance of having a company-wide, long-term vision and an entrepreneurial culture that supports the unfamiliar aspects of innovation. Getting external feedback through various partnerships and tackling challenges in teams were also seen as being key.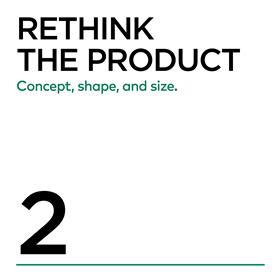 "And then, finally, patient capital, which is a term I really love, because I think it's something that we or brands might forget about," Iles says. "They're exploring new materials, new processes, new business models- having immediate success is going to be quite rare," he adds. "So, looking at patient funding through internal-external means, impact funds, [and] R&D grants [is important]."
A month ago, in what was seen as a historic move, nations came together at UNEA-5.2 and agreed to begin working on a legally binding global agreement tackling plastic waste, to be completed by 2024. Leading up to this moment, organizations like the Foundation and WWF had worked to create awareness about the true scale of the problem and to mobilize support for this agreement, which was also crucially backed by governments and businesses.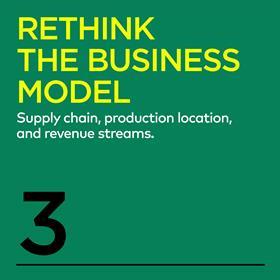 A legally binding agreement has been widely regarded as a necessary step to urgently harmonize existing voluntary efforts aimed at addressing the plastic pollution problem. From the perspective of designers, Iles says that they already have the necessary skills and desire to design for a circular economy, and that this treaty could help create the framework for this work. "If this treaty can create the mandate and the justification for radical design changes in packaging, then that is hugely exciting."
As Inger Andersen, Executive Director of UNEP, highlighted when the resolution was passed, the time between now and the deadline should not be perceived by businesses or government as an opportunity to pause existing efforts to move towards more circular solutions. "I would suggest that the evidence of the past few years implies that the momentum is already there," Iles comments. This moment, he adds, provides the opportunity for companies to invest and explore solutions that will enable them to get ahead of what the agreement will enforce in two years.
Closer to circular
Iles has had the opportunity to work with Ellen MacArthur over the years, and he tells me that the mindset she had when she sailed solo across the globe was also her way of approaching the Foundation. "When she was setting up the Foundation, she was relentlessly questioning, curious and very hungry to learn," he says.
This way of thinking has translated into the mission of the Foundation, according to Iles, who admits that he does not sail himself, despite being taken on a few boat trips by his colleagues over the years. "It is fun," he says, "but I found it completely terrifying at times."
Now that the idea of the circular economy has been well-established and there has been progress in the move towards this framework, the challenge lies in realizing impactful solutions. "If I can help inspire and equip designers and creatives to use their skills to turn that vision of a circular economy into a reality," Iles says, "whether that's in plastics, in fashion, in food, in cities, mobility or any other industry- that is proving to be a hugely rewarding endeavour."