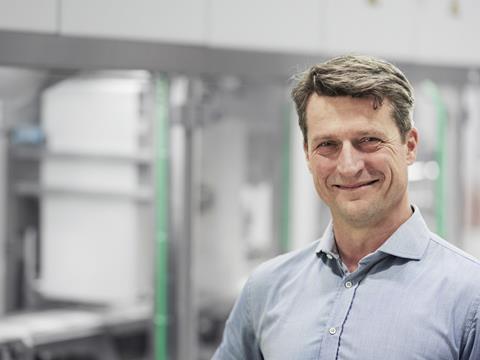 Torsten Sauer, sustainability director at Syntegon, discusses the critical role alternative packaging materials can play in a differentiated approach to sustainability.
The ever-growing trend toward a circular economy and ecologically aware consumers is driving demand for alternative packaging materials such as paper or fully recyclable mono-materials. Together with leading packaging equipment suppliers, food and non-food manufacturers alike are working hard to make alternative packaging concepts a mainstay for their products.
For decades, brand owners and consumers chose packaging material on the basis of well-established parameters: production costs, appearance, protective properties, machinability and shelf appeal. Multi-layer plastic laminates have often been the optimum choice. In recent years, however, expectations of ecologically aware consumers and regulations have added another game-changing aspect to the mix: the material's end-of-life usage.
Packaging material manufacturers and brand owners have been approaching product packaging in a much more comprehensive manner ever since: instead of just disposing of packaging, reducing, reusing or recycling the materials has become paramount, driving them to develop and apply novel solutions – without compromising on the abovementioned parameters.
Accordingly, alternative solutions call for more than just renewable source materials and modified production processes: next to low production costs, high shelf appeal and optimal product protection, a meaningful end-of-life treatment is essential for these solutions to establish themselves as viable alternatives to traditional multi-layer plastic films. Among a variety of sustainable materials, two successfully strike a balance between all these criteria: paper-based solutions and recyclable mono-material films.
Paper: sustainable, well established and versatile
Consumers are especially partial to sustainable variants of flexible packaging, as they recognize it as an eco-friendly alternative to conventional plastics. These materials are made of paper with a thin functional coating to provide barrier and heat-sealing properties. Regarding the circular economy concept, paper-based solutions are optimal because they can be well recycled, thus ensuring long lifecycles.
While the processing of paper for secondary and end-of-line packaging is well established – largely due to its good machinability – there is still uncharted territory to explore when it comes to using paper as primary packaging. Currently, paper-based materials are widely used to produce well-known primary packaging styles for products with low barrier requirements, such as vertical bags for pasta, sugar or flour.
Recent functional paper developments provide packaging solutions with improved barrier properties, thereby opening up opportunities for a wider range of applications that go beyond the traditional packaging options both vertical and horizontal.
However, these new materials also come with a new set of challenges, which leaves machine manufacturers in a tough spot. The paper-based packaging must feature a very thin heat seal coating to be fit for recycling. However, these thin layers result in a much less robust material, leaving it up to the machine manufacturers to find solutions to keep the sensitive material intact throughout handling and processing. In addition, the paper's thin heat seal coating requires specially developed sealing heads to create tight seals that will protect the product inside.
That is why machine manufacturers rely on innovative horizontal flow wrappers and vertical baggers to process and handle sealable barrier papers, which can have a paper content of up to 90 percent. These machines fold and package all bag styles, including the attractive doy stand-up bag, without tearing or wrinkling the sensitive material.
In addition, manufacturers do not have to compromise on efficiency, as they are able to achieve the same processing speeds with paper-based packaging as they do with conventional plastic film. Consumers are already seeing these innovative solutions on supermarket shelves used for ever more products.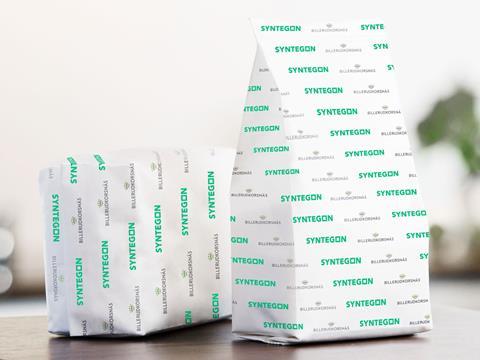 A new kind of film
Mono-material films are another option for packaging foods sustainably while reducing plastic content. Fully recyclable polypropylene or polyethylene can serve as primary packaging for sensitive products with higher barrier requirements such as bars, cookies and crackers. However, brand owners should be aware of some key differences when using mono-material films as opposed to composites.
Mono-material, especially polyethylene-based structures may require modified sealing technology, especially in the high-output range. Due to its temperature sensitivity, the material's outer layer can only tolerate short sealing times, resulting in much smaller sealing windows. At the same time, insufficient energy input will result in inadequate sealing.
With heat-resistant composites this is unproblematic; however, in the case of heat-sensitive mono-materials, this can easily lead to defective seals and damaged products. To create the perfect seam using mono-material films at different film speeds and constant energy input, the three sealing parameters pressure, temperature and time need to be optimally coordinated. Food manufacturers' safest bet is to rely on strong partners along the value chain – mainly material suppliers and machine manufacturers to achieve optimal results.
One size does not fit all
When the plastic waste discussion first started gaining traction, consumer emotions were running high, and the industry needed to find answers quickly. Its solution was to get rid of plastics quickly. Brand owners have since adopted a more differentiated analytical approach that considers more than just their own company's scope. Product properties, country-specific regulations and consumption habits necessitate case-by-case strategies.
Recycling infrastructures also play a pivotal role in the reuse or recycling of packaging. Many European countries, for instance, have well-established waste streams that allow effective recycling, and thus the use of paper-based or mono-material alternatives. In other parts of the world, where landfill is still the norm, bio-degradable solutions present the most suitable sustainable packaging.
Material choices are also greatly influenced by the place of consumption: if consumers are likely to dispose of the packaging via established streams – e.g., when consuming at home – then recyclable mono-materials are highly advisable. But when products are consumed on the go, there is always a risk of littering, which again favors paper-based and bio-degradable solutions. In addition, the product itself often determines the choice of packaging material.
Take chocolate, for example: varieties with high cocoa content can easily be packaged in paper. But as soon as nuts, nougat or fruity fillings are added, the product's fat content increases, which calls for higher barrier properties than paper can provide. The same is true when alcohol or different aromas are added to achieve a complex chocolate flavor. In these cases, fully recyclable plastic packaging may still be the most sustainable packaging material.
Flexibility: a question of the right equipment
In most cases, manufacturers will seek to package their products in more sustainable versions of existing packaging formats while ensuring optimal barrier properties, machinability and material availability. Being able to process different materials is therefore crucial to keep a competitive edge in the food market and cater to the needs of consumers all around the world.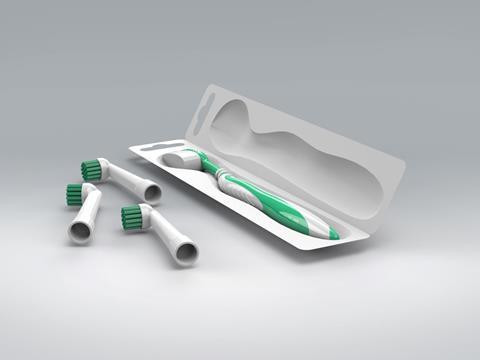 Since many manufacturers may choose to launch more sustainably packaged versions of existing popular products only gradually, their machines need to be flexible and be able to process a variety of materials – conventional composites, paper-based materials, and recyclable mono-material solutions. Choosing machine equipment that can be easily retrofitted ensures that manufacturers can switch between these packaging options flexibly and still meet the ever-changing industry regulations and consumer trends.
Pushing the boundaries with packaging that goes beyond product protection
The industry's future will see different takes on sustainable packaging, as well as concepts that push the boundaries of what is considered optimal packaging even further. Today, brand owners, material suppliers and equipment manufacturers are already collaborating to develop completely new packaging styles that go beyond simply protecting the product inside. For example, recycling providers are already working closely with material suppliers to streamline recycling processes.
The idea is that by scanning QR codes on the packaging material, recycling companies can access information about the product that was packaged inside. These codes can either be imprinted during the production of the material itself or added during processing and packaging. This information helps recyclers to separate clean materials from contaminated ones more easily, and to produce recycled material with a better quality.
Another innovative concept worth keeping an eye on is paper forming technology. Current innovations in paper forming are already offering sustainable alternatives for everyday staples in the supermarket. For example, paper-based blisters for nutraceuticals and sealed paper tray packaging for cheese have recently been launched. However, the technology has the potential to push the boundaries even further.
The goal is to not only reach sustainability goals, but to offer added value at the same time, e.g. handier sizes, a premium look or a completely new packaging experience. Not only spreads and jams but also electronics, oral and personal care products and even cosmetics and nutraceuticals can already be packaged in paper-based, pod-shaped packs.
With their firm structure, printability and shape flexibility they can eliminate the need for secondary carton packaging, thereby also positively impacting brands' ecological footprint. These packs can be uniquely designed to attract consumers' attention on-shelf while underscoring the brand's sustainability commitment.
Disrupting the status quo
In several cases, new pack styles like paper pods are likely to pave the way for modified products and even trigger new consumer habits in the long run. Everyday goods like liquid shampoos could reach consumers in dry form with only a fraction of the volume and weight throughout the products value chain. Packed in single-use portions as water-soluble tablets, a product like shampoo could significantly help reduce costs and CO2 emissions alike – and open up new distribution channels like e-commerce.
Compared to their liquid variant, these dry everyday goods have a longer shelf life and can be more safely delivered straight to consumers' doorsteps. To tap the full potential of the industry's future packaging concepts, a new level of consulting and cooperation between brand owners, recycling companies and equipment providers – like Syntegon – needs to become the norm.