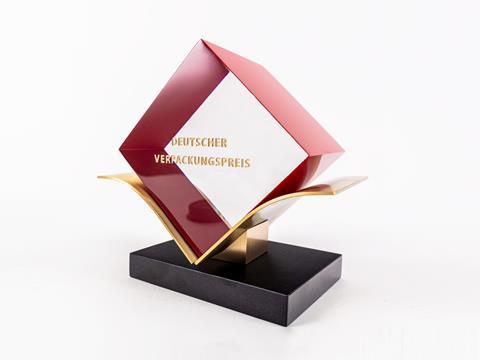 The jury of the German Packaging Awards has announced the winners of its 2021 edition. A total of 52 innovations from six countries won through in the competition organised by the German Packaging Institute (dvi).
The award ceremony is scheduled to take place on 28th September 2021 as part of FACHPACK. The winners of the Gold Award, which further honours particularly ground-breaking innovations from among the already successful packaging award winners, will also be announced there.
"The packaging industry is and remains a highly innovative and creative sector," says Dr. Bettina Horenburg, director of corporate communications at Siegwerk Druckfarben and a member of the board with overall responsibility for the German Packaging Award at the German Packaging Institute.
"As the organiser of Europe's largest showcase for packaging, we were delighted to see the large number of innovations submitted, which was around 25% higher than the previous year. The quality of these solutions was also remarkable. Our 24-member jury from business, research, and academia literally had their hands full during their two-day meeting to review every submission.
"In the end, a number of deserving winners were selected. But consumers, trade, commerce, industry, and the environment can all consider themselves winners as well. After all, packaging innovations bring even more convenience, shopping experience, efficiency, profitability, and sustainability. They are high-tech as well as creative, find new ways to do things, and equip us for the challenges of our times."
Without further ado, here is the list of winners in full:
Design and processing
Shrink Sleeve 3D-Illusion (NYCO Flexible Packaging)
Verpackungsrelaunch Hansaplast, Elastoplast und CURITAS (design for human nature)
Markenlaunch vehappy (EDEKA Zentrale Stiftung & Co. KG)
Spirituosenflasche für 4x50 R.N.P. Superior Premium Rum (Stoelzle Glasgruppe)
Functionality and convenience
Dosiersystem für Kapseln mit Fokus auf eine besonders einfache Anwendung, auch für Nutzer mit motorischen Einschränkungen (PACKSYS GmbH)
Salon Lotion Pump für Entwicklerlotion oxidativer Haarfarben (Kao Germany GmbH)
Adventskalender 2020 (Offsetdruckerei Schwarzach GmbH)
Babbit music box (Stora Enso Lettland)
IceCoat (STREIFFGruppe)
hvb HiPack Multifood Verpackungssystem (hvb Innova AG)
Kebag (Haepsi GmbH)
Product presentation
Wikingerschiff-Display für Honig-Met in imposanten Ausmaßen (KOLB Group – Gebr. KNAUER GmbH + Co. KG)
Dr.BEST/Aquafresh Plasticfree Toothbrush Packaging (GSK Consumer Healthcare GmbH, Karl Knauer KG, M+C SCHIFFER GmbH)
Bübchen Skin Care GmbH Nachhaltigkeits-Display (DS Smith Packaging Deutschland Stiftung & Co. KG)
Cyberpunk 2077 - 360° POS-Kampagne (Schoepe Display GmbH)
Staedtler Baum-Display (Panther Packaging GmbH & Co. KG)
Economic efficiency
Holz - Transportpalette für Traktor Frontlader Schwingen (G. Gühring GmbH&Co.KG Verpackungstechnik)
ET-5-Fast-Pack (Smurfit Kappa)
Marina Base (Smurfit Kappa Zedek)
SPQ – "Sustainable Print Quality" (SÜDPACK Verpackungen GmbH & Co. KG)
Sustainability
Der Kreis ist König! EcoStretch - Kreislauflösung für Stretch Sleeves (CCL Label)
Lipcarestick Next Generation, Monomaterial, alle Komponenten aus Polypropylene (PP),3-teilige Mechanik (RPC Bramlage GmbH)
Verpackungslösung mit Federwirkung (Smurfit Kappa)
Blister meets Paper – die nachhaltige Durchdrück-Tablettenverpackung (Syntegon Technology GmbH / Huhtamaki Flexible Packaging Germany)
Magic Star Light Airless Cremespender mit Kunststofffeder (RPC Bramlage GmbH)
Co2 Recycling in PET Flaschen (mibellegroup)
rPET-Flaschen mit 50% Recyclat aus dem Gelben Sack (Werner & Mertz)
GAPLAST AirlessMotion(R) PCR 500 ml (Gaplast GmbH)
DERIBA GREENLINE (R) Folien (Riba Verpackungen GmbH, ein Unternehmen der DERIBA Group)
NIR Marker für Kunststoff-Kartuschen (Tailorlux GmbH & Fischbach KG Engelskirchen)
Cien - nachhaltigste Deodose (TUBEX GmbH)
The Monotube - 100% recycled aluminium from base to tip (TUBEX Aluminium Tubes)
PP Mono Blister (Etimex Primary Packaging GmbH)
S-Liner Peel (Saier Verpackungstechnik GmbH & Co. KG)
suPErtube (LINHARDT GmbH & Co. KG)
Refill CAPS aus Zellstoff mit organischer Barrierebeschichtung (PAPACKS Sales GmbH)
ReCo3 Flaschen aus Rezyklat (W. Müller GmbH)
Always Cotton Protection (Procter & Gamble Service GmbH)
Logistics and material flow
KTP EuroStack 128 – Großladungsträger (KTP Kunststoff Palettentechnik GmbH)
Optimierung B+K U-Pack mit Tragegriff (Bischof + Klein SE & Co. KG)
WALTHER Rollcontainer mit patentiertem Schnellkopplungssystem (WALTHER Faltsysteme GmbH)
New material
Korrosionsschutzfolie mit neuartigem Intelligent Corrosion Blocker (ICB) (EXCOR Korrosionsschutz-Technologien und -Produkte GmbH)
ElifProLite – A Recyclable High Barrier Laminate (Elif Plastik Ambalaj San. ve Tic. A.Ş)
Melker of Sweden paddle packaging (Stora Enso Lettland)
Digitalization
Dynamic Packaging Configuration X Big Data Digitalisierung (HelloFresh Se)
Packaging machinery
PackOnTime 2box (Kern GmbH)
cycleForm(R) (KOCH Pac-Systeme GmbH)
Evolution BOX LINE Wrapper (KOLBUS GmbH & Co. KG)
Young talents
Culinaro - Einweg zu Mehrweg (Julia Parlow & Tim Winkler)
Input (Madeline Hesse, Jonas Zerr, Elisabeth Freymüller & Frederic Vennemeyer)
REPOST (Rebekka Jochem & Jacobo Cuesta Wolf)
Packaging for Sprinkles and Marshmellows (Urban Šenica & Anja Kadunc)
Click here for more information on all the winners.