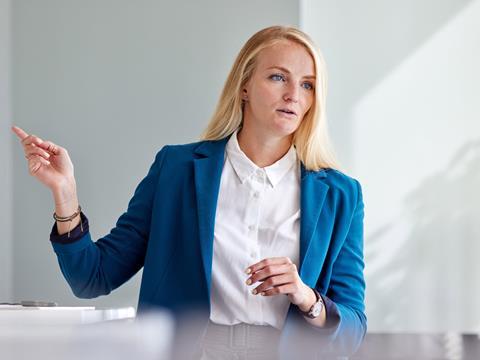 Alena Maran, Director, Strategy & Sustainability for Avery Dennison LPM, looks at the emerging challenges facing the industry and the desired outcomes as the Packaging and Packaging Waste Regulations (PPWR) gains momentum.
We are all inspired and stand by the EU's Green Deal to become climate-neutral by 2050. It's our role as citizens and as companies to do everything in our power to drive positive environmental change. Packaging, as an industry, is also part of the puzzle and needs to contribute to GHG emission reduction and decoupling growth from the usage of virgin materials.
Speaking on Packaging Europe's panel discussion about the PPWR, it was clear that more needs to be done before manufacturers, recyclers and legislators find the right balance between an ambitious legislative framework and the need to support innovation to drive circularity
Demystifying PPWR
The PPWR outlines a set of key requirements for brands, other packaging value chain operators and governments. Brands will be responsible for ensuring that all packaging is recyclable, all plastic packaging contains recycled content, and certain end-segments introduce reusable packaging.
Governments are responsible for creating deposit return schemes and introducing extended producer responsibility schemes in their territories to improve the output and quality of recycling streams.
While on paper all these ideas are needed and developed with the greater good in mind, there are several concerning weak spots in how this regulation is being discussed and executed.
Innovation not prohibition
We need to incentivise innovation and avoid prescriptive solutions that can actually hinder progress. First, the European Commission should incentivize sorting and recycling facilities to invest in state-of-the-art technologies to be competitive in price versus imported recycled material or virgin material.
We, packaging value chain players, can have the perfect product, but if there is no infrastructure to efficiently collect, sort it and recycle it, we will not be able to have high quality recyclates.
In the same way, the Design For Recycling Guidelines should also have an innovation-driven approach. Currently, many existing Design For Recycling guidelines are focusing on banning certain packaging characteristics without considering the end-performance of the product.
For example, we don't see a clear distinction in recycling of PET bottles vs. PET trays or of food-contact vs. non-food-contact HDPE materials. In reality, the recycling processes are different, so the guidelines should reflect it.
Optics over data
There is an emerging view that packaging is at fault for many environmental concerns. In some cases, such concerns are justified, for instance in the case of marine plastic pollution or incineration.
However, let us not forget that packaging also plays an essential role in our daily life, that is, it is necessary to protect and prolong the lifespan and safety of the product. In addition, packaging is a fundamental communication tool whereby consumers are informed about the products and how it is to be consumed.
This is where EcoDesign comes in. If we develop products that use less materials and enable reuse or recycling by design, we will be able to achieve a net zero future. And to ensure EcoDesign principles, all guidelines must be formed on science-based testing protocols. These protocols must be developed in consultation with the ecosystem to ensure the protocol is in line with the desired environmental outcome.
Role of labels in circular packaging
Finally, let's take a look at the role of Pressure Sensitive Labels, which Avery Dennison produces, through the lens of PPWR. PSL supports recycling as it enables consumers to play an active role in packaging circularity with education and awareness.
For example, PPWR introduces harmonisation of consumer sorting instruction and PSLs is a ready-made and existing tool to enable this communication. In addition, Pressure Sensitive Labels can enable packaging recycling or reuse. For example, multicycle labels are an ideal solution for brands that want to wash packaging and place it back on the market.
Overall, while we all strive to bring a positive impact to the environment, there is no clear pathway towards a future-proof packaging format. We need to partner together with brands, packaging producers, recyclers, associations, and legislators to find new innovative circular packaging solutions.
If you liked this article, you might also enjoy:
The L'Oréal approach to packaging sustainability
What steps is Apple taking to make its packaging more sustainable?
How did Brazil achieve its 100% aluminium can recycling rate – and can it be replicated in the EU?
Experts have their say on the EU's Packaging and Packaging Waste Directive revisions