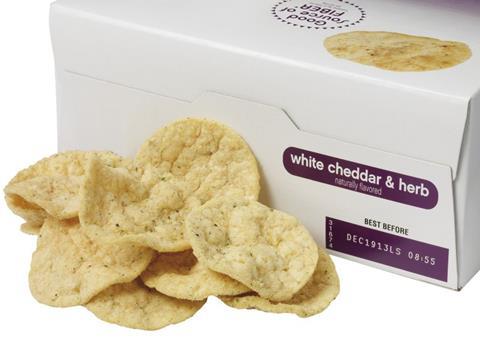 James Wolff, Global Marketing Manager at Videojet Technologies, looks at current trends in the salty snacks market and the benefits of planning coding and marking operations in partnership with a specialist supplier
From the ubiquitous potato chip, to nuts, popcorn, pretzels and jerky, the salty snacks market is one of the most dynamic in the global snack food category. As a whole, the category is expected to reach a $63bn market size by 2023 , growing at a CAGR of 5.8%, and salty snacks has been predicted to represent one of the fastest growing segments. Consumers, particularly millennials, are demanding a far wider variety of options and flavours than ever before. As a result, the industry has experienced widespread product proliferation, and a growing consumer interest in healthier snack options has further fuelled product innovation.
A growing 'foodie' culture has also emerged in recent years, which means that, in addition to more health-conscious options, demand for more exotic flavours has increased. Consumers want to try anything that is innovative and different. For example, there is a trend towards spicier snacks, which has been widely influenced by Middle Eastern cuisines, and for smoky flavours. Further, there is a growing interest in flavours with a floral element – such as rose, elderflower and hibiscus.
The markets in Europe and North America continue to be robust, and with increased demand for western-style snack products – coupled with increased interest in western eating habits – Asia Pacific is expected to register the fastest growth throughout the forecast period mentioned above. This is largely attributed to increasing demand from countries like China and India.
Production line challenges
With a wide variety of products and flavorus now expected, manufacturers must adapt accordingly in terms of production. Flexibility is a key factor; in order to meet demand for the various products and flavour options required there will be a marked increase in product changeovers – which has the potential to slow the productivity of production lines. Some of the key areas to consider are Industrial Internet of Things (IIoT) connected equipment, flexible equipment, and intuitive software. Fortunately, the latest coding and marking technology has advanced to provide these solutions, ensuring quick and simple new job setups across a variety of packaging materials.
It is important to ensure your printing equipment offers several integration choices - such as RS-232 and Ethernet ports, as well as options for factory automation protocols such as Ethernet/IPTM and Profinet® . There are many technologies available for printing flexibility, so partnering with an expert that can offer many solutions is imperative. Lastly, simple and easy to use software can be a powerful tool on the production line. Software that uses colourful graphics and intuitive displays allows operators to simplify common tasks such as print job template design, while identifying potential issues with printers is quick and easy with clear, color-coded warning signals. Further, job data can be stored and managed centrally, which helps avoid delays in starting production runs as jobs are pre-validated and all information is at the operator's fingertips. Built-in production statistics also support efficiency and OEE reporting, which helps with efforts to achieve sustainable process improvements.
Applicable technologies
Salty snacks are packaged in a wide variety of materials, and this will almost exclusively dictate which kind of coding and marking system is best suited to your specific needs and requirements. Continuous inkjet and laser technologies, for example, are ideal for products packaged in jars, tins and cans, which are generally produced and filled on vertical filling lines. Depending on your preferred location, CIJ and laser printers can be configured to print on the bottom, top or shoulder of containers.
What we are seeing, however, is a larger variety of salty snacks packaged in on-the-go resealable packaging, stand up pouches and single serve packages produced using flexible films. These are generally produced on vertical form, fill and seal equipment (VFFS), and here a thermal transfer overprinter (TTO) may be the best solution. TTO products available on the market today have been engineered by packaging industry experts to make all aspects of interaction straightforward - from VFFS installation to customer operation. In addition, new technology has been developed to ensure code accuracy and quality. Alphanumeric print quality spot checks can now be carried out in real time via a series of image capture, analysis, comparison and fault triggers. This means significant recurring defects can be identified and rectified far more efficiently than if manual checks alone are carried out – reducing the risk of waste and rework.
Working with an expert partner
Selecting a coding and marking system and then successfully integrating this into existing production line facilities requires a great deal of preparation, knowledge and skill. It is advisable, therefore to allow an expert to assess your operation ahead of taking any purchasing decisions. Expert coding and marking suppliers will work in partnership with a manufacturer, analysing their specific needs and requirements and then advising on the most appropriate coding and marking systems and supporting software.
There are a number of areas that must be given the appropriate levels of consideration. Firstly, the packaging substrate used may need to be tested in laboratory conditions to ensure the appropriate code quality can be achieved. The salty snacks manufacturing environment can be challenging, with dust, oils and varying heat levels present, for example. The correct inks and fluids, whether fast drying, food grade, or high adhesion, must be selected alongside the correct printing system.
Secondly, there may be requirements in areas such as data capture – which could allow products to be more effectively tracked and traced throughout the supply chain. This technological capability can be integrated by working closely with a coding and marking expert.
Finally, areas such as service and maintenance should be carefully considered. Today, it is possible to offer remote service capabilities, where trained technicians can access the coding and marking system remotely to identify and fix issues in real time. The additional benefit of predictive maintenance capabilities built into the coding and marking systems also allows manufacturers to take a proactive approach to maintenance – as opposed to being reactive. This allows unscheduled downtime events to be minimized.
Whatever your coding and marking requirements may be in the salty snacks category, this area of operations should never be a hindrance to the overall effectiveness of your production line. Through working with expert suppliers of coding and marking technology, manufacturers can concentrate on the important business of production, and leave coding and marking to the experts.