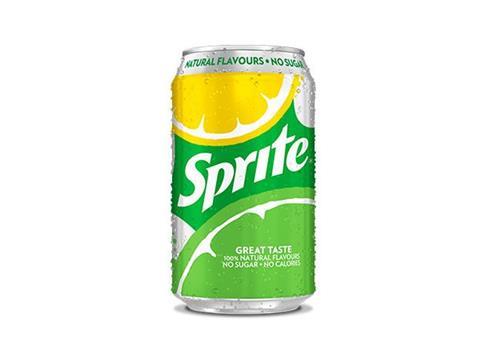 Coca-Cola European Partners (CCEP) is unveiling a brand refresh and new Sprite Lemon Lime and Cucumber No Sugar variant as part of the brands' biggest investment in over five years.
Introducing a new bottle and brand re-design across the entire Sprite portfolio, the new look will retain the iconic green colour Sprite has used since 1961, whilst up-weighting refreshment cues with lemon and lime imagery on all can and bottle formats.
The dimples that currently feature on existing 500ml bottles of Sprite will for the first time form part of the 2lt bottle design, representing the drink's refreshing, citrus bubbles.
In addition to Sprite's new look, Sprite Lemon Lime and Cucumber No Sugar will burst onto shelves at the end of February. The refreshing mix of lemon, lime and cucumber will help retailers tap into consumer demand for light flavoured carbonates that are experiencing strong market growth.[2] Made from 100% natural flavours and available in 330ml cans, 500ml and 2L PET bottles, Sprite Lemon Lime and Cucumber No Sugar is soft drinks tax exempt, contains zero calories and is free of caffeine and preservatives.
Sprite will be backed by a £3.3million marketing campaign, spanning digital and print advertising channels, which will target the brand's largest consumer group, millennials[3], who consume around 65% of flavoured carbonates in GB.[4] The campaign will communicate the brand's natural flavour, no sugar message and over 400,000 consumers will have the opportunity to taste the new variant through in-store sampling.
Simon Harrison, Customer Marketing Director GB at Coca-Cola European Partners, said: "This month marks an exciting time for Sprite as we announce its biggest investment in over five years. The introduction of the Cucumber flavoured variant and brand redesign will look to grow one of our much loved core brands which is currently worth almost £55million in GB[5].
"With zero sugar flavoured carbonates currently driving growth within convenience and grocery[6], there is no better time to launch Sprite Lemon Lime and Cucumber No Sugar which we're confident will excite our core millennial audience who are always on the look-out for new innovative flavours and experiences."
More info:
1] http://www.coca-cola.co.uk/stories/primary-colour-why-sprite-has-sported-green-since-1961
[2] Nielson Total Impulse MAT to 07.10.17
[3] Nielson Total Impulse MAT to 07.10.17
[4] Nielson Total Impulse & Grocery MAT to 07.10.17
[5] Nielsen MAT w/e 31.12.17 / CGA MAT 30.12.17
[6] [6] Nielson Total Impulse & Grocery MAT to 07.10.17