How will Close the Glass Loop, the new pan-European action platform, achieve its aim of increasing European glass recycling rates to 90%, and why is this so important now? Victoria Hattersley spoke to Adeline Farrelly, Secretary General of FEVE – one of the founding partners of the initiative – to learn more.
As we reported at the time of its official launch in June, Close the Glass Loop is an industry platform that aims to unite the glass collection and recycling value chain to achieve more bottle-to-bottle recycling.
The goal is to achieve a 90% collection rate of used glass packaging in the EU by 2030. The rate currently stands at an average of 76%, although this does vary considerably from country to country: Belgium and Sweden have achieved particularly impressive levels, at 98% and 97% respectively, while the UK is at a less inspiring 68%. The second goal is to achieve an overall better quality of recycled glass, so more recycled content can be used in new production loops.
While there are other glass associations in Europe and indeed throughout the world, to our knowledge there is no comparable glass platform that brings together public and private stakeholders in this way. Clearly, then, it's an important development in terms of Europe's drive towards a circular economy.
The catalyst
But why now? Haven't the aims and goals embodied by Close the Glass Loop been important for a long time?
"The EU is focused very heavily on trying to reduce the environmental impact of industries and pushing the idea of circularity rather than single use, so of course we wanted to address this issue," says Adeline. "But the catalyst behind Close the Glass Loop was the recently announced revision of the EU Packaging and Packaging Waste Directive, which by 2030 will be focused on real recycling as opposed to simply collection for recycling. This is clearly much stricter, and for glass it will mean reaching a 75% real recycling rate by 2030. If you take into account 10% losses from collection of waste to the recycling plant, we would therefore need to be collecting 85%, give or take some leverage, so we have put that figure at 90% as a reasonable target to aim for.
"Clearly, then, this will require all elements of the supply chain to be working more closely together. We need to act now to bring all actors in the chain – the glass industry, recyclers, EPR schemes, municipalities, brand owners, etc. – in line so we can achieve our goals."
Importantly, this does not mean cross-EU harmonization – Adeline is quite clear that this is not the goal. "We believe from talking to our members that there are already very well-established systems in some countries that are working very well. Maybe it would be useful to achieve harmonization at national level, but we don't believe this is realistic at EU level."
There are, therefore, two levels of action within the organization: a multi-stakeholder European platform that coordinates the projects; and a national governance structure to implement individual national plans. This decentralized structure will perhaps give the required level of flexibility to account for specific challenges within individual member states.
Aiming for 'seamless infrastructure'
To achieve these ambitious aims there will obviously be some key challenges or bottlenecks to address, the most significant of which, says Adeline, is collection. If this is not done in a systematic way then the material can be destroyed or contaminated and a valuable resource is lost. That's why Close the Glass Loop would advocate for separate collection of glass.
"The more you handle glass," she says, "the more damage can be done, so if the collection point is as close as possible to the point of consumption this makes it more convenient for the user and rates will go up accordingly. The infrastructure and service provision need to be seamless from putting the bottle into the bin and bank and having it brought back to use for recycling."
But this is not the only stumbling block: there are other key user groups that need to be addressed – particularly the HORECA sector. In addition to household collection, the initiative is therefore also keen to promote separate glass collection for this sector.
Another bottleneck – 'surprisingly', says Adeline – is that it can be challenging to arrange collection in large urbans areas compared to rural areas. "In Paris, for example, it's difficult to find space for bottle banks so we need to look at putting different schemes in place for different areas. Touristic areas or high-rise apartments, etc., will also require a different approach. There's no one-size-fits-all."
Following collection, the next step to address is sorting – removing non-target materials such as labels, caps and so on. The more the sorting and cleaning process can be optimized, the greater the percentage of this valuable product will be recycled.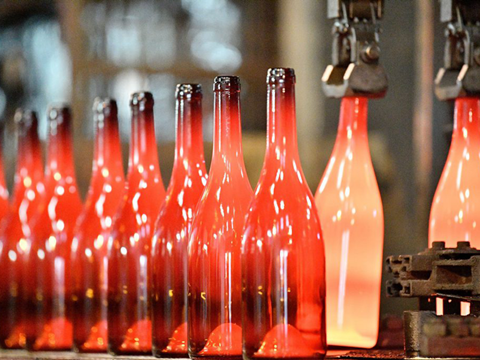 'The Furnace of the Future'
As we know, glass is a permanent material that can be recycled infinitely. According to Close the Glass Loop, every tonne of recycled glass saves 1.2 tonnes of virgin raw materials, with a 2.5% energy reduction for each 10% of glass recycled in the furnace and a 5% reduction of greenhouse gas emissions.
And yet it would be remiss of us not to address the fact that those who advocate in favour of plastic are quick to point out the energy-intensive nature of the glass production process itself. Is there a sense in which this negates some of those environmental benefits?
"We are very proud of two initiatives we are taking to address this issue. Bear in mind that the CO2 emissions in our industry come from two areas: melting and use of virgin materials. In the melting phase, 80% of our emissions are from the energy we use – natural gas – and the other 20% come from the use of virgin materials in glassmaking. If we can switch the virgin materials to recycled glass we get rid of those 20%."
Secondly, says Adeline, there is another big project in the pipeline that could have the potential to make huge energy savings in the glass production loop. Twenty European glass manufacturers are coming together to build the first large-scale hybrid electric furnace to run on 80% green electricity that can melt all colours of glass.
Currently at the demo project stage, the 'Furnace of the Future' will be the first large-scale hybrid oxy-fuel furnace to run on 80% renewable electricity in the world. (There are currently around 150 electric furnaces operating in the industry, but they are for very small scales of production.) If successful, it could replace current fossil-fuel energy sources and cut CO2 emissions by 50%. Ardagh Group – the second largest glass packaging manufacturer in the world – has volunteered to build the furnace in Germany. It will be built in 2022, with an assessment of first results planned for 2023.
'A lot of work to do'
Adeline also points out that glass, owing to its intrinsic qualities, does not have the same issues that plastics have. It is 100% recyclable and never loses its characteristics no matter how many times it is renewed. This also means it is safe for food contact because the melting process is a purifier: with recycled plastics, it's not secret that it can be much harder to get approval for food applications.
"So, yes, we have issues of CO2 emissions and we are committed to tackling this admittedly huge challenge," says Adeline. "We will also have to implement a plan for how to measure real recycling in the future, in line with the updated directive. Collecting all that data will be quite complex, so there's a lot of work to do but we have the capabilities to do it."