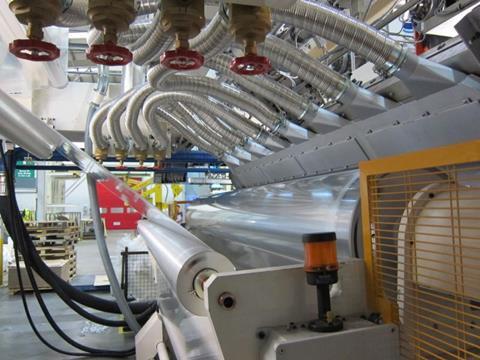 AIMPLAS takes part in the project CLIPP+, led by the British firm SKYMARK, whose objective is to achieve a new technology to recycle printed films and remove odours and contaminant substances.
The European project CLIPP+ reaches the last months of development and the research works to obtain a new recycling process of printed films, which soon will be performed thanks to the implementation of a machine at industrial scale for the decontamination and deodorization of these materials.
The project, coordinated by the leading manufacturer of flexible packaging in United Kingdom SKYMARK, had the participation of AIMPLAS, the Plastics technology Centre, to develop a technology allowing the recycling of printed films by removing contaminants ad odours. For that purpose, the project had funding from the European Union through the research and development programme Horizon2020, with grant agreement no 673663.
This technology will allow the recycling of printed films for their use in higher added value applications, since up till now most of the printed packages were treated as non-recyclable wastes with a use in application with low added value, such as garbage bags, flowerpots, etc., to be recovered or, in the worst-case scenario, to be landfilled.
Thanks to the use of super-critical CO2 technologies as decontaminant, a recycled film suitable for its use in applications of higher added value for the packaging sector, such as film for packaging of paper rolls and other hygienic products was obtained.
Manufacturing of the first machine on a commercial scale
Currently, the manufacturing of the first recycling machine is being finalized on a commercial scale. The incorporation of this technology to an industrial equipment has been possible and soon, it will be installed at SKYMARK's premises in Scunthorpe, (United Kingdom).
According to the British firm, thanks to this collaboration, a process contributing to the manufacturing of more sustainable packages with a cost reduction has been achieved. The new technology developed will raise the profile and the capabilities of the plastics recycling industry, marked by an increasingly strict legislation with wastes of the packaging sector.