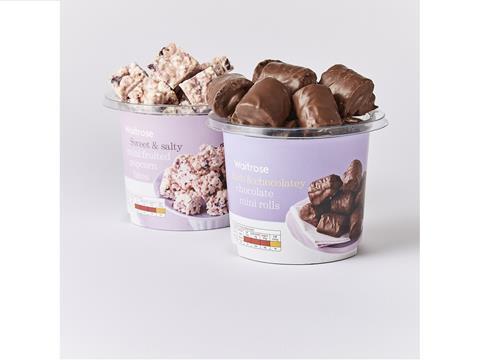 Waitrose & Partners has become the first UK supermarket to launch innovative new packaging for its 'treat tubs', which are made from 90% recycled materials and fully recyclable.
This sustainable packaging innovation for Waitrose by Charpak, will be 3.5g lighter than the previous design, which will save up to 1.4 tonnes of plastic per year.
The 'Twist-Loc' mechanism on the tubs has been specially designed to help anyone who has difficulty opening tight packaging. The tubs have also been designed so that no bits of unnecessary plastic need to be torn off to open and thrown away separately. The treat tub also has a removable cardboard sleeve so that the tubs can be reused by customers at home.
The tubs, which are available in all Waitrose & Partners stores from this week have already recorded a 16% increase in sales, with customers reacting positively to the new design.
Karen Graley, Packaging Manager at Waitrose & Partners comments: "Our aim is to ensure all of our own-brand packaging is widely recycled, reusable or home compostable by 2023. The introduction of these innovative new treat tubs is another positive step towards that goal, one that helps drive the circular economy and boost recycling rates across the UK as we are also including recycled content that has been obtained locally from the supplier."
The new Twist-Loc tubs are designed by Charpak Ltd and are available in Waitrose & Partners stores.