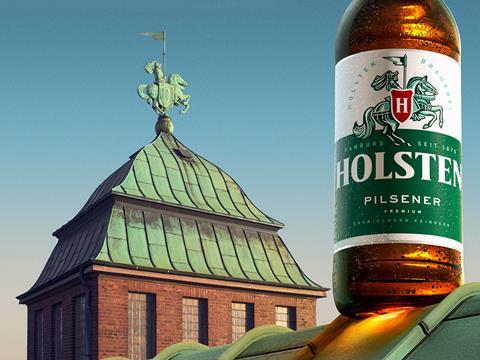 Taking inspiration from the brand's connection to local culture, Design Bridge has recrafted the knight, putting authentic historical details back into a recognisable icon.
The company has also introduced a light teal into the colour palette - a reference to the oxidised copper of the knight statue that sits on top of Holsten's historic brewery tower.
Drawing on typography and labels found in the Holsten archives, Design Bridge created a new bespoke wordmark influenced by Hamburg's rich architecture. To evoke the merchant work ethic that built the port city, much of the new visual identity has been crafted by hand, in an attempt to create a functional and proud brand that appeals to its loyal consumer base and everyday beer drinkers, as well as opening the brand up for new consumers to enjoy.
Svenja Wohlers, senior brand manager at Holsten, said: "Over the years Holsten has proven its strong and enduring presence in the Hamburg beer market, as well outside of the city borders. By collaborating with Design Bridge, we have succeeded in creating a refreshed visual identity that brings a sense of pride back into our brand. Balancing a new level of the craft and detail that is connected to our heritage, the brand world also feels bold, keeping Holsten relevant in the ever-changing beer sector."