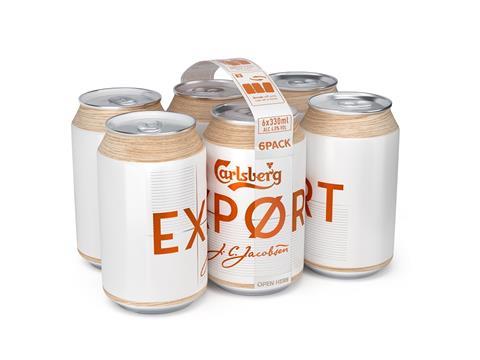 Yesterday, in its home of Copenhagen, the Carlsberg Group unveiled a new ground-breaking packaging innovation as part of its ongoing sustainability pledge, Together Towards Zero. The new 'Snap Pack' replaces traditional, bulky plastic rings with a pioneering solution that instead bonds packs of multiple cans together.
The Snap Pack, initially launching in the UK on 6 x 330ml Carlsberg Expørt cans, will be available from 10th September, as the brewer celebrates the relisting of the iconic Carlsberg Expørt brand following a wider premiumisation drive.
A sustainable packaging solution, the new Snap Pack holds Carlsberg Expørt cans together in a multipack form with small pieces of a specially developed glue in small dots, which are easily snapped apart when required, but robust enough to stand up to handling to and from the store. Using minimal plastic and limiting waste, as well as reducing CO2 emissions and the reliance on fossil fuels, the Snap Pack aims to reduce the Carlsberg Group's global plastic usage by more than 1,200 tonnes - from brewery to store - annually once the roll out onto all four, six and eight packs across all Carlsberg variants in 11 markets is complete.
The Snap Pack has been developed as one of the many plastic-reducing initiatives aligned with Carlsberg's industry-leading global sustainability programme, Together Towards Zero. Launched last year, the strategy focuses on four key ambitions: ZERO carbon emissions, ZERO water waste, ZERO irresponsible drinking and a ZERO accident culture across all breweries by 2030. Alistair Gaunt, VP National Sales Business Unit, Carlsberg UK, commented: "Our new and exclusive listing reflects the success of the strategy the business has put in place over the last two years to premiumise Carlsberg Expørt. We recognised the need to reinvigorate and drive value back into Carlsberg Expørt alongside the wider premium lager category, whilst re-engaging with consumers in a more relevant way and we're delighted with the response we've had so far. The new Snap Pack is revolutionary new way of responsibly packaging Carlsberg Expørt - and we know that sustainability is as much a priority for retailers as it is for us, and of course shoppers."
Liam Newton, VP marketing, Carlsberg UK, added: "We're incredibly proud to launch the new Snap Pack; we've been working on this innovation for the last three years as we continue to search out ways to be better as a business. Our challenge is to continue to provide great tasting beer, whilst significantly reducing the use of plastics in our supply chain. We know this is an on-going issue, not just in the UK but globally, and while we will always be looking for new ways to reduce Carlsberg UK's future impact on the environment, the introduction of the Carlsberg Expørt Snap Pack marks a significant plastic reduction today."
The Snap Pack will launch in the UK from the 10th of September on 6 x Carlsberg Expørt packs – exclusively to Tesco until March 2019. This will be followed by a roll out to other Carlsberg variants in the UK over the next six months. Snap Pack will also be available in other selected European markets from late September onwards, and in Carlsberg's home Denmark from early 2019.