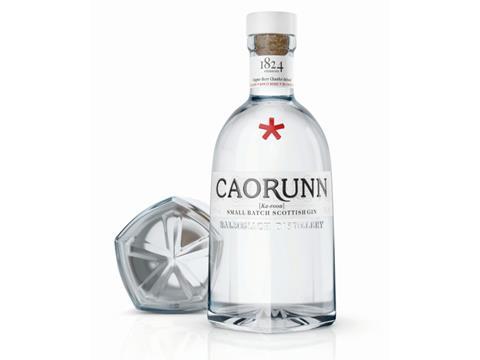 After nearly ten years at the pinnacle of the premium gin market, Caorunn has launched a brand new bottle made by Allied Glass which marries the fine spirit's artisan roots with seriously sleek aesthetics.
The bottle represents the five natural Scottish botanicals which surround the Speyside distillery and are hand harvested by Carounn's Gin Master, Simon Buley. The decanter's signature pentagonal shape and five-pointed asterisk base, a nod to the Caorunn's locally foraged botanicals, have been redefined, providing added presence to the eye-catching gin whether it is encountered in a bar or the home of a discerning drinker.
Crafted from extra white Flint glass, the desirable bottle will help assure a new generation of gin aficionados to reach for the clean and crisp, invigorating and distinctly aromatic spirit of Scotland.
Caorunn's journey of flavour, which sees coul blush apple, heather, dandelion, bog myrtle and rowan berry act in harmony with six traditional gin ingredients and crystal clear Scottish water, adheres to the same, richly acclaimed recipe as when the spirit came to market in 2009. The distinctive taste has helped the gin grow year-on-year to become one of the top five super premium gin brands within the UK (as reported by Nielsen*) which is celebrated daily by judicious drinkers in more than 35 countries. With an emphasis on Caorunn's character and modernity, the bottle's re-design was instigated by JDO, the iconic five-pointed shape being evolved to encapsulate the Scottish Highland heritage with a contemporary edge and elegant design whilst enhancing Caorunn's exquisite craftsmanship through embossed details. The signature for Simon Buley, Caorunn Gin Master, is printed on each bottle of Caorunn to reflect that he alone oversees the entire craftsmanship process for each vessel.
Simon comments: "I am proud to see Caorunn showcased within such an exquisite bottle. The design has taken into consideration the Celtic botanicals foraged on the hills around Balmenach Distillery and how Caorunn is infused in the world's only working Copper Berry Chamber. The care and attention of the spirit and bottle sets Caorunn apart."
More info: