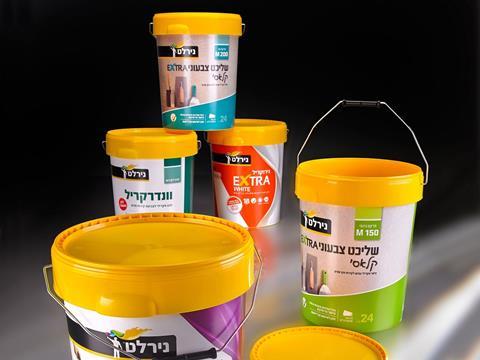 A bespoke pack from RPC Superfos is delivering improved functionality and on-shelf presence for one of Israel's leading paint companies. The new design for Nirlat retains the appearance of the company's previous container while providing greater functionality and shelf presence.
Nirlat approached RPC Superfos to upgrade its packaging with a new paint bucket that met the company's needs for a modern alternative to an existing solution.
"The shape and size of the paint bucket had to remain practically unchanged but with a modern look, and it was also crucial to us to keep the yellow lid and the broad rim with the integral grips," explains Shir Zakai, VP Marketing at Nirlat.
The solution from RPC Superfos is an injection moulded 18-litre bucket with metal handles on the side. It is produced with a bespoke mould that combines various features from other RPC Superfos products, including the SuperLift®, Hobbock, SuperFlex® and SuperFlex® Extra containers.
"In many aspects, we have been able to make improvements through the cooperation with RPC Superfos," continues Shir. "The new bucket and lid have an opening and re-closure mechanism which is better than before, the In-Mould Labelling technique ensures a premium quality look rendering beautiful colours and, not least, the buckets are easy to stack – empty or filled. From purchasing over logistics to marketing, we are all highly satisfied with the solution from RPC Superfos."
More info: