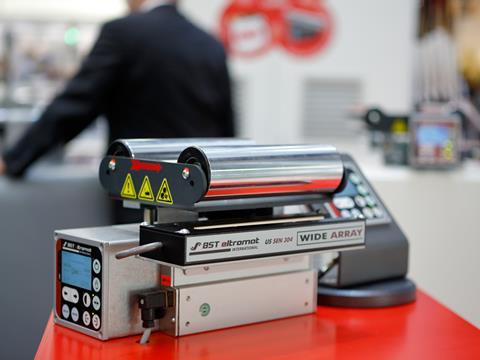 BST eltromat presented a portfolio of unique width for quality assurance systems for the web-processing industries at Print4All (co-located with Ipack-Ima) in Hall 18 (Booth L02 M01) last week in Milan. Presentations featured the product segments web guiding, 100% inspection, register control, web monitoring, colour measurement and management, as well as workflow and measurement of thickness and basis weight.
BST eltromat's exhibit featured the POWERScope 5000 with new characteristics, including the wear-free electronic zoom and LED flash. This digital web monitoring system offers greatly improved image quality compared to the previous solutions. As a result, machine operators can detect irregularities on the press far better and faster. As a low-cost, entry-level model, the POWERScope 5000 features a uniquely easy-to-operate user interface. In addition to the POWERScope 5000, the TubeScan eagleview developed by cooperation partner Nyquist Systems is another highlight at Print4All. The TubeScan eagleview combines cameras for 100% print inspection and for web monitoring. The machine operators have the possibility to use the 100% print inspection as well as the other cameras for a detailed zoom image.
A further exhibition focus was the iPQ-Center, with which individualised solutions for numerous inspection tasks can be assembled in modular fashion. The company showed the modules iPQ-Check for 100% inspection, iPQ-View for web monitoring and iPQ-Spectral for inline spectral colour measurement. With iPQ-Spectral, printers can ensure that the colour values of printed products meet customer specifications consistently and perfectly. Due to the ever-increasing hype surrounding Industry 4.0 and the data collected in the printing process, BST eltromat wants to help printers and machine operators to transmit this data through the various process steps, to enrich it, and ultimately to interpret it in an intelligent way for the production process.
With MeasureColor, a colour management software from Colorware, BST eltromat presented the advantages of consistently combining process steps, from the pre-press and quality assurance systems to product analyses with informative reports. The company showed how preparatory pre-press functions can be used in the subsequent process steps, how machine operators receive recommended actions from the quality assurance systems during the printing process, and the benefits of the wealth of information in the collected data. The holistic view on the production process and the simplified set-up of the quality assurance systems also leads to remarkable cost savings.
Web guiding with CompactGuide and SmartGuide
In the web guiding category, BST eltromat exhibited the digital line and contrast sensor CLS Pro 60. This sensor provides precise, non-contact scanning of lines as well as of print or web edges. The web guiding systems CompactGuide, EcoGuide and SmartGuide are available in different sizes, are easy-to-use and can be equipped according to customer needs with various sensors, controllers, actuators and guiding devices. CompactGuide and EcoGuide are used for narrow-web applications such as label printing. SmartGuide is suitable for mid web and wide web applications including package printing or extrusion.
Register control despite low-contrast marks
In the field of register control, the BST eltromat presentation in Milan emphasised the unique performance of its intelligent sensors, which are capable of reliably detecting even very low-contrast marks, as well as lacquers and cold or hot seal. Outstanding examples include white marks on white backgrounds and marks on metallized backgrounds such as holograms. Beyond this, register control systems from BST eltromat are well known on the market for their short setup times and excellent user-friendliness, including the real-time, live production images displayed on machine operators' monitors. BST eltromat showed the regi_star20 and the AR4000, which is suitable for offset printing. The company presented its FSS 15 ink fountain control in combination with AR4000. The FSS 15 ensures high-precision colour settings in all offset printing units. BST eltromat provides an extra option for the FSS 15: finecolor ink fountains with laser-cut precision blades, special seals, and tried and tested mechanics for ink key adjustment for unlimited reproducible gap openings between ink blades and ink ductor roller in all ink keys.