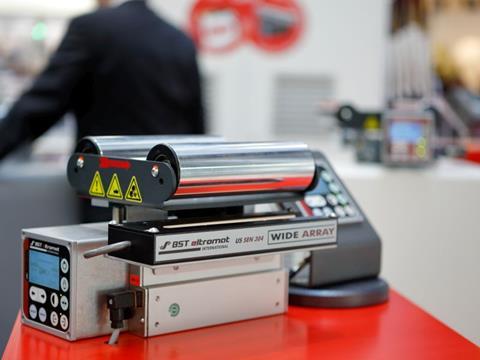 With a comprehensive range of products for quality assurance in label printing, BST eltromat is showcasing its strong worldwide position in the narrow-web market at Labelexpo Europe 2017 (September 25–28 in Brussels).
In line with the slogan "BST eltromat – Unique Quality Assurance for Results that Count," the company will be exhibiting both new and proven solutions for web guiding, web monitoring, 100% inspection, color measurement and register control in hall 6 (booth E60) at Labelexpo
They cover the entire range of requirements for the various print methods used to produce labels today. A particular highlight are the products that focus on color management for offset printing.
"Many of our customers in the label sector see BST eltromat as providing a comprehensive, practice-oriented portfolio of solutions for quality assurance that is perfectly aligned with their applications. Their experience with our systems is that they are reliable and convenient to operate, and they know that they benefit from fast machine setup times. Our products provide the flexibility and performance that production operations need in today's market environment. To us, customer orientation not only means listening to our customers and reacting to their needs. Our worldwide presence with 11 local subsidiaries supports our self-image of being highly customer oriented from the geographical perspective as well," said Anne-Laureen Lauven, Head of Marketing at BST eltromat, to explain the exhibition's significance to the company. "And Innovation Management drives our technological development with a view toward the future requirements of the Industry 4.0, in order to enable our customers to further optimize their production systems with interconnected processes." Accordingly, accredited visitors will be able to see systems for web guiding, web moinitoring and 100% inspection from BST eltromat at the booths of several other LABELEXPO EUROPE exhibitors.
Web guiding systems for all requirementsAt its booth, the company will be exhibiting both proven and new web guiding systems. They cover virtually all of the technical and economic requirements of the narrow-web market. For example, BST eltromat will be showing a CompactGuide with a CLS Pro 600 digital line and contrast sensor and a CompactGuide with a Wide Array sensor. With its wide field of vision, this sensor provides web guiding options that begin where web edge sensors reach their limits, as in the case of alternating web widths, for example. Thanks to the sensors' wide measuring range, manual adjustment is a thing of the past. The high-performance CompactGuide can be configured flexibly. In narrow-web printing, it is the most frequently used web guiding system in the world. And BST eltromat will be exhibiting an EcoGuide in Brussels that lives up to its name: it is particularly economical to operate. This web guiding system can also be individually configured to meet a variety of requirements.
Special highlight is the ekr commander for the ekr 500 digital controller. With intuitive operation, completely revised hardware, new software and a higher-resolution graphical display, the flexible touchscreen of the new ekr commander offers maximum operating convenience. The new system provides support in all the areas where it makes sense to use a touchscreen – during setup or for direct data input, for example. Its keys feature "tactical feedback" to prevent incorrect operation. The new ekr commander is 100% downward compatible. In machines that already operate with ekr 500 digital controllers, it can replace the current commanders at any time. For web guiding systems installed in machines, customers can connect an optional, second ekr commander.
Systems for all quality control issuesBST eltromat is bringing its SUPER HANDYScan 4000 and POWERScope 5000 web monitoring systems to Brussels. Launched last year at drupa, the POWERScope 5000 features an extremely high level of operating convenience. It can be operated via the hotkeys of the external keyboard or using the intuitive gesture control of a multitouch monitor. In both cases, operation is reduced to the essential functions, providing maximum user-friendliness. The web monitoring system also features a wear-free electronic zoom and outstanding image quality thanks to the high-resolution digital camera and LED flash. At LABELEXPO EUROPE, BST eltromat will be showing the POWERScope 5000 in action on a rewinder.
A CompactGuide, a SHARK 4000 Lex system for 100% inspection and the TubeScan eagle view inspection system developed by Nyquist Systems, a BST eltromat cooperation partner, will also be exhibited on the same rewinder. SHARK 4000 Lex has been developed especially for a variety of uses in the narrow web and label printing industries. The easy-to-use SHARK 4000 Lex reliably detects smallest defects in real-time and is suitable for web widths up to 600 mm. The 100 % print inspection system for use on rewinders and narrow-web printing machines, stands out due to the well-engineered technology, extensive range of functions and comprehensive defect management software.
TubeScan eagle view combines 100% print inspection with web monitoring, enabling seamless printing error monitoring. With the new QLink Workflow, Nyquist Systems has expanded its TubeScan product portfolio and has concentrated on synchronization, data handling and error editing. Nyquist Systems developed this solution for customers who use the TubeScan system on print and cutting machines in parallel. With QLink, TubeScan systems can be used for the automatic control of cutting machines and stand-alone 100% inspection systems. And BST eltromat will demonstrate the diverse options of its modular iPQ-Center. With its four modules – iPQ-Check for 100% inspection, iPQ-View for web monitoring, iPQ-Spectral for inline spectral color measurement and iPQ-Workflow as the connective element – this high-end solution can cover special customer requirements for quality assurance in narrow-web processes such as label printing. For example, iPQ-Check works with the illumination that BST eltromat specially developed for reflecting materials – a unique performance characteristic. With iPQ-Spectral, label printers can ensure that the color values of printed labels consistently meet customer specifications perfectly. And iPQ-Center is open for the production-supporting solutions of other manufacturers such as the Automation Engine from ESKO.
Maximum color quality in narrow-web offset printingBST eltromat will be underlining its long-term commitment to offset printing in Brussels with its FSS 15 ink fountain control in combination with the AR4000 register control. The FSS 15 ensures high-precision color settings in all offset printing units. Regardless of print width and the number of print units, the AR4000 delivers maximum register precision and excellent cost efficiency in offset and hybrid printing machines. In conjunction with FSS 15, AR4000 and web monitoring systems, products from BST eltromat not only permit perfect color quality control but also control the quality of the print results. BST eltromat provides an extra option for the FSS 15: finecolor ink fountains with laser-cut precision blades, special seals, and tried and tested mechanics for ink key adjustment for unlimited reproducible gap openings between ink blades and ink ductor roller in all ink keys. They ensure maximum precision when it comes to color setting.
Innovation Management paves the way for the futureAbove and beyond new and proven solutions, BST eltromat will present its innovation management solutions at LABELEXPO EUROPE 2017. As an effective cross-functional strategic instrument, Innovation Management collects, analyzes and prepares suggestions from a variety of sources in the best way possible with the goal of implementing them in promising new projects. The requirements of the Industry 4.0 play a key role here. In the label sector in particular, cross-company and cross-process interconnection and production system digitalization will significantly increase process efficiency. Mrs. Lauven explains in detail: "At our booth, Innovation Management at BST eltromat will be an information point for exhibitors and visitors alike: everyone who is highly involved with this prospect for the future."
More info: