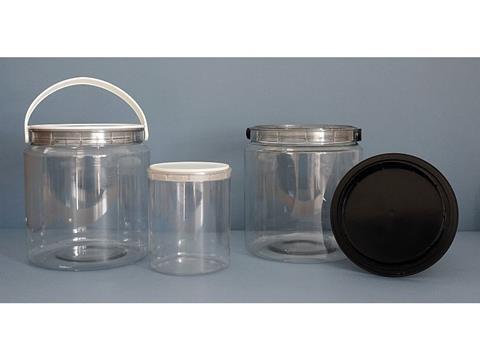 After a number of customer trials, Brittpac have launched a comprehensive range of PET paint cans with and without handles using rPET aimed at the £2.3 billion UK Paint and DIY Market.
The market for Paint, Wallcoverings and Woodcare has seen considerable improvement over the past five years. New housing initiatives, government commitment to increasing housing supply and property transactions have been the key drivers. The paint and effects market have seen significant growth of 12% in recent years. The woodcare market has done even better with a 17% increase over the same period.
According to the British Coatings Federation (BCF), three out of four cans of paint sold in the UK are made in the UK and 30% of UK production is exported, making the UK a net exporter of paint. Recent figures show the total volume of paint is now standing at 702 million litres in the UK alone.
Richard Fox and David Smith, directors of Brittpac, commented on the product launch, Richard said, "I am sure that anyone who has done some home DIY would have experienced a number of issues with metal paint cans. Trying to get the lid off once the can has been opened can prove to be very difficult and being tin it is impossible to see how much paint is left and when it goes back on to the garage shelf you can't see the colour and often find lumps of rusty paint inside. Very often consumers get frustrated and go out and buy new paint, so the whole cycle starts all over again, which creates both cost implications and waste issues with many recycling centres not accepting paint cans anymore."
David Smith, who was the technical brains behind the project said, "I came up with the idea of a clear see through paint can made from rPET with a special double seal lid, it has been through the most stringent drop test making it the safest paint container available. I needed to work with a plastics company that could help us at the early design stages and enable us to bring our products to market. We identified what was then Graham Packaging Plastics of Chalgrove in Oxfordshire, Graham has since been purchased and now trades as an independent plastics company under the name of Oxford Packaging Solutions. The team then and now helped us through every stage of the way. We now have a range of 250ml, 500ml and 750ml cans without handles and 2.5 litre with a handle. All of the cans can be filled on existing machinery with no need for any change parts, so making the conversion from metal to recyclable PET seamless. The cans can also be manufactured in white."
More info:www.brittpac.com