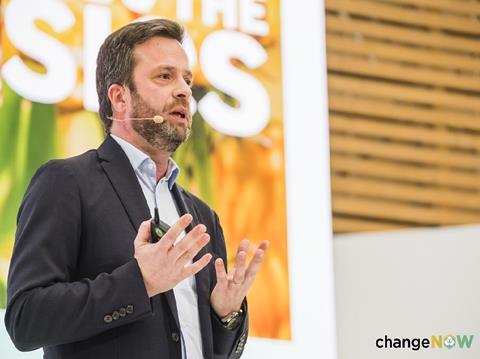 The Next Packaging Movement was launched this year by Perrier, part of Nestlé, to provide support to sustainable startups and promote a circular economy in plastics. Following the announcement, Victoria Hattersley spoke to Philippe Gallard, International Business Unit Director, about the scope of the project and the ethos behind it.
Earlier this year, Perrier put out a call for applications to sustainable packaging startups, designed to 'expand efforts beyond the development of 100% recycled and recyclable packaging to support innovators and develop solutions that reimagine packaging from sources to end-of-life'. Applications were received from all over the world, from NGOs, startups and researchers, and the three winners were announced at the 2020 ChangeNOW summit in Paris.
The three successful applicants were: Biotic, a biobased and biodegradable plastic produced from agricultural waste while also creating jobs for women in Africa where it is based; Flexikeg, an 'ecolaboration' to deliver water and other beverages in a reusable flexible keg; and PlastiSkul micro factories for waste transformation. The last of these is an integrated-approach model combining solutions from waste collection to transformation, which can be implemented in developing countries with a 'strong social impact', including training programmes for locally-based entrepreneurs.
To develop its Next Packaging Movement initiative, Perrier combined experts from throughout the world with a multi-disciplinary approach to the problem of plastic waste. It partnered closely with SoScience, a European-based organization focused on responsible research and innovation. The project also includes a 'task force' of external leaders including material scientists, environmentalists and entrepreneurs to select the most promising projects and help mentor the winners.
'A range of approaches'
The first thing to note about the above is that, according to Philippe Gallard, International Business Unit Director, Perrier, the three choices were part of a conscious decision on Perrier's part to recognize that he topic of sustainability must be approached from several different angles; there is no one single solution that will work for every scenario. Each of the three startups addresses the problem of plastics waste in a different way: developing plastics from renewable sources, a re-use model, and an 'upcycling' model.
"We asked ourselves how we could go beyond, because we realise there is no magic replacement to PET today. So when we chose the projects we wanted to have a range of approaches. Biotic, for example, is about finding a new way to create plastic using different raw materials, so they are not moving away from PET but rather finding a way to use some byproducts and so move further into a circular economy.
"With Flexikeg, you can significantly reduce the amount of packaging that is used overall: instead of using 100 bottles we use only one keg that can be refilled, so that is another way to approach things. Finally, we also wanted to do something around upcycling, and that is where PlastiSkul comes in; importantly, this is also a social initiative as this is a key part of the Next Packaging Movement commitment."
Philippe stresses that the help Perrier is providing is not just financial: money is important but it doesn't necessarily bring practical expertise, something that is sorely needed by a startup that in some cases may only be run by a single person.
"One of the projects has been created by a researcher based in Kenya. At the moment she has no structure in place – not even a bank account – so what we are also doing is help set up these kinds of practical things and prepare the business case. After all, in order to produce a plastic bottle there are many constraints and compliance issues to be thought about."
Calculated risks
In fact, he says Perrier has chosen deliberately to take ideas that were not well developed, with the accompanying risk that they may not all ultimately succeed. "We felt it was our duty to look at things from a different angle and not to do the same things as everyone else today."
So it's not all about the bottom line? "We don't have that as a main criteria in this case, no. What was in our minds was more the scalability than the profitability. We wanted initiatives that we believe we can scale up, but as all the ideas are early-stage we of course can't know for sure. But we wanted to have the potential to make a real impact; we are placing bets on the successful companies in the hope they may be profitable in the future."
This, by the way, is a perfect demonstration of why it's important for big players – such as Perrier, which is of course a part of the global giant Nestlé – to engage with the new elements of the industry in this way. Let's not be cynical at a time when we're all full to over-brimming with cynicism – it's refreshing to see a company take a risk on something that might fail with the idea of benefitting society and the environment. However, let's also not forget that it is just such the big players who can afford to take risks; that's why, arguably, they must.
And it's not just about operating within the constraints of sparkling water – challenging though they are. "There is nothing more sensitive than water. For example, if you stock pallets outside and it rains on them, sometimes this will create mould on the interlayers of carton and this smell can penetrate the PET and contaminate the product."
"But we wanted to go broad and be ambitious, so the work we are doing with startups will be interesting for the entire beverage industry – beer and soft drinks as well as sparkling water. We feel we need to participate in finding a solution for the broader issue of beverages."
No 'ideal packaging'
The Next Packaging Movement, as mentioned above, is Perrier's way of addressing the ubiquitous plastic waste problem. How does Philippe Gallard view this wider sustainability issue – in particular the fierce backlash against plastic we have seen in recent years (although there are some suggestions this may be on the turn)?
"I personally don't think there is any one ideal packaging. PET is probably the most practical one when you are on the go and you are thirsty. It's light, which is great in terms of transport costs and emissions; it's also recloseable so from a consumer perspective there's a reason why PET has become so widely used. Aluminium cans or glass have their own positive attributes too, of course, but I don't think we should really see PET as the bad guy, because when it is recycled and sorted in the right way then it is a very circular material with one of the best carbon footprints.
"Then again, you could say that the plastics backlash has also been positive thing in a way because it has drawn attention to the urgency of the problem and the need to find solutions – good for the planet and for industry."
'The right ecosystem'
What can we take away from this? The most important thing about initiatives such as the Next Packaging Movement is that they are really about knowledge-sharing. And without wanting to sound like a wistful idealist (I'm very far from that), isn't that what everything should be about? Increasingly we are seeing the success of this type of collaborative approach, whether it's the Ellen MacArthur Foundation, CEFLEX, or something else besides. It sounds obvious to say, but sustainability is bigger than one brand, and it's encouraging that some of the bigger players appear to be both acknowledging and taking this on board on a global scale, rather than concentrating on their own particular area of the pond.
And of course, there are benefits to both sides of the transaction – not just for the startups. It's symbiotic. They need the financial and practical support, but a young company has the fresh approach and the agility to look at the sustainability question from a new angle, no?
"Yes, probably big companies like Nestlé or our competitors are not always as agile as a startup, so working with them is a blessing as it's a way to challenge ourselves and broaden our thinking. They are quite humbling to us in a way because they ask the right questions to make sure their idea comes to life."
"What companies like ours need to do is create the right ecosystem for these ideas to work."