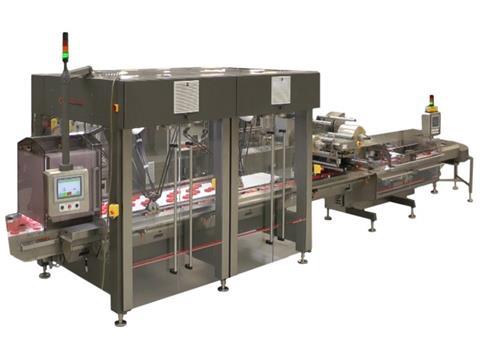 Bradman Lake will be showing the VGR2000 Vision Guided Robotic system connected to the FT120 Flow Wrapper. The system is built with an open architecture using 'off the shelf' components as with all Bradman Lake products. It is simple to operate and easy to set up on new product formats via the intuitive HMI screens.
Using delta robots with Rockwell Automation servo motion control, the products will be placed into the infeed of the FT120 Flow Wrapper, the products can also be placed into either a top or end load carton management system.
The VGR2000 Vision Guided Robotic system features a smart camera that integrates into the Rockwell Automation ControlLogix 'PAC' via add on instructions. This allows fast and simple teaching of the machine for new products, giving greater flexibility to the user. The same smart camera can also be used to recognise out of specification product that can be rejected. The single 'PAC' unit controls robot movement and pick strategy, product tracking and placement.
The FT120 Flow Wrapper is well established and fully automatic machine, equipped with Servo driven paper feed, Automatic reel to reel splicing, Pack tucking, End crimp carry over and includes the following features; No Product/No Bag, No Gap/No Crimp and Softjaws. The unique non-sprung end crimp ensures high integrity repeatable sealing even on difficult applications.
The VGR2000 and FT120 Flow Wrapper can be integrated with secondary and tertiary packaging equipment to provide a complete packaging solution similar to the recent display at Interpack, read more.
The system has the capability to be set-up with a single point of access with remote connectivity for online fault diagnostics and Rockwell Automation's 'FactoryTalk Analytics' for system data collection.
FactoryTalk® ViewPoint is utilised for the local connectivity to link each machine, providing system control and performance data locally at each of the machines HMI's.
FactoryTalk® Analytics is utilised for the remote connectivity to transmit real time data remotely to a secure machine cloud. This provides real time machine and system data that can be viewed remotely from anywhere around the globe.
Bradman Lake packaging machines incorporate the latest integrated connectivity Industry 4.0 technology to communicate seamlessly over a common network and protocol. This enables the installation of customised systems that deliver enhanced productivity, rock solid security and operational intelligence with live data output to drive smarter management decisions. This flexible, intelligent system allows for an exhaustive range of possible system configurations to meet every conceivable packaging need.
To witness the latest development in Vision Guided Robotics and Flow Wrapping technology visit Bradman Lake Group's stand B50 at the PPMA Show being held on 26-28 September 2017 at NEC Birmingham.
More info: