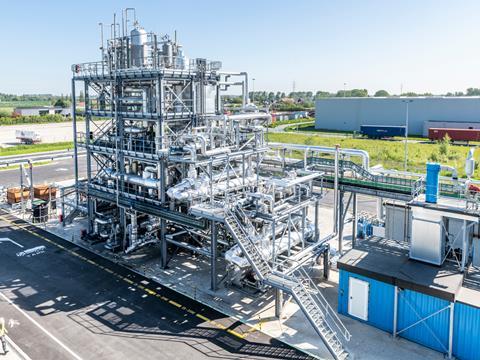 Borealis has signed an agreement with Renasci Oostende Recycling NV to acquire the entire chemically recycled feedstock output from its high-tech recycling centre in Oostende, Belgium.
With a projected 20kt output per year delivered to Borealis, the company hopes that this agreement will enable it to become one of the leading global suppliers of chemically recycled base chemicals and polyolefins.
As a complement to mechanical recycling, chemical recycling has an important role to play in closing the material loop on plastics circularity. This is because plastic waste streams of lower quality can be recycled chemically into high-quality material.
The waste feedstock processed at Renasci's ISCC PLUS-certified recycling centre is derived from mainly dried household waste and some industrial waste. In the first instance, the waste is sorted multiple times to extract the best value plastic material for mechanical recycling.
The waste feedstock that cannot be mechanically recycled is then chemically recycled; this chemically-recycled feedstock will subsequently be processed in Borealis' steam crackers, initially at its production location in Porvoo, Finland.
"Our agreement with Renasci is a welcome complement to the OMV ReOil chemical recycling project," explains Martijn van Koten, Borealis' executive vice president for base chemicals and operations.
"We notice a strong increase in demand for chemically recycled products. Borealis and OMV aim to increase the supply of these more circular base chemicals and polyolefins in order to help our customers deliver on their own sustainability targets."
"In the true spirit of EverMinds we accelerate action to plastics circularity through collaboration," says Lucrèce Foufopoulos, Borealis' executive vice president for polyolefins, innovation and technology, and circular economy solutions.
"The cooperation with Renasci allows us to offer our customers and partners virgin-like polyolefins from chemically recycled post-consumer waste in material quantities effective this quarter. This is how we re-invent for more sustainable living, and expand our portfolio with a Borcycle C offering."