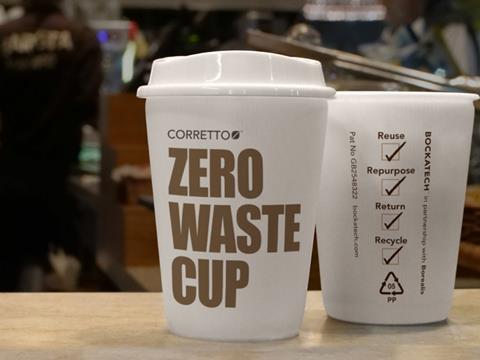 Borealis has announced a strategic alliance with Bockatech, a UK early stage Greentech and provider of EcoCore™ technology for sustainable packaging. This new material and technology partnership will advance the circular economy by developing low-cost, high performance, reusable, and recyclable foam injection moulding solutions. The open-innovation agreement will accelerate the development of Bockatech's technology, broadening the platform so that it can be licensed to more manufacturing partners in a variety of markets for multiple applications.
As the number of bans on single-use plastics continues to grow, particularly in the food and beverage industries, market demand for reusable and more easily recyclable replacement solutions is rising. Borealis and Bockatech have partnered to meet this demand, combining Bockatech EcoCore™ technology with Borealis material grades to produce lightweight foam injection moulding solutions. These jointly-developed solutions will be available for global use under licence.
The patented EcoCore™ solution, in combination with Borealis grades BH381MO and Daploy™ WB140HMS, is an eco-friendly way to produce high-performance packaging that is reusable and recyclable. Foamed mouldings that use EcoCore™ require less material and have faster cycle times to reduce material costs, energy use and environmental impact. Investment costs for new equipment are also minimal.
Reusable and recyclable end products made using EcoCore feature high strength and a smooth surface finish ready for printing. The foam core also offers excellent insulation and is ultra-lightweight. Their high strength also makes them ideal for deposit return schemes that have been proven to deliver material recovery rates of up to 94% and reduce the likelihood of plastics entering the marine environment. As mono-material packaging, EcoCore solutions are 100% recyclable.
"As strong advocates for the circular economy within our industry, we at Borealis are eager to partner with pioneering firms like Bockatech to develop polyolefins-based solutions that are reusable and recyclable," says Andreas Leitner, Borealis Head of new business development. "Combining our foam products with EcoCore technology to produce innovative, lightweight solutions is more than an exciting business opportunity: it's a real step forward for more circularity in packaging."
"We're delighted to have found in Borealis a partner who shares our commitment to developing new solutions for innovative packaging with reduced environmental impact," says Chris Bocking, CEO and founder of Bockatech. "Combining our EcoCore technology with Borealis materials and expertise in foam will produce viable new applications which offer significant benefits for businesses, consumers and the environment."
Click here to learn more about how Borealis is engaged to drive the circular economy of plastics.