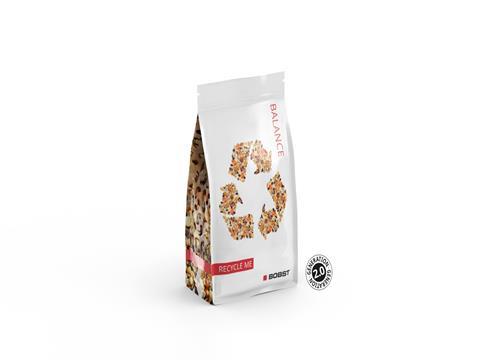 Packaging and label equipment and services supplier BOBST, along with its collaborators, has announced the launch of its 'Generation 2.0' samples of high barrier flexible packaging solutions designed for recyclability.
According to BOBST, the 'Generation 2.0' samples are a "key milestone" in its work to replace non-recyclable high barrier multi-material packaging structures with mono-material alternatives designed for recycling. The company says it has been using a "new generation of polymers" to create the samples.
After launching its samples of mono-material standup pouches at K 2019, BOBST says that, along with its partners, it has continued to invest in and research the samples. The company says it aims to meet all industry requirements in terms of processability, barrier safety, and optical quality.
The 'Generation 2.0' samples include new ultra-high and high barrier full polypropylene laminated pouches. These apparently come with the option of an AluBond metallized or transparent aluminium oxide (AlOx) barrier layer, as well as a solvent-free barrier adhesive and/or topcoat.
Further additions reportedly include a UV flexo combined with digital inkjet printing on full polypropylene laminated bags with AluBond metallization and barrier performances. BOBST adds that this again comes with the option of a solventless adhesive for a mono-material pouch designed for recycling.
The 'Generation 2.0' samples also include UV low migration flexo printing on full low-density polyethylene laminated pouches and CI flexo water-based printing on full MDO-PE laminated pouches. Both samples feature AluBond metallization, with the latter apparently providing an ultra-high barrier using a high barrier solventless adhesive.
Nick Copeland, research and development director at BOBST, says: "Finding sustainable alternatives to non-recyclable plastics is one of the most important challenges of our times.
"It is a particular challenge for flexible packaging such as that used for food packaging, where the high barrier protection against oxygen and water that prevents deterioration is currently provided by multi-layer, multi-material packaging, which cannot be recycled.
"This next generation of high barrier mono-material structures brings us one step closer to being able to provide completely recyclable solutions to replace non-recyclable packaging."
On BOBST's role in the partnership, Copeland adds: "The BOBST Competence Centers are used to test the viability of the materials in terms of their barrier, printing and lamination, to ensure they can cope throughout the production process."
Jaroslaw Jelinek, global marketing manager for oriented PE technologies at Dow Packaging & Specialty Plastics, one of BOBST's partners on the project, claims: "Recyclability brings a major layer of complexity to designing efficient and effective packaging.
"We strongly believe that collaboration with the whole value chain is not only the fastest, but the only way to help accelerate the market moving towards ambitious sustainability targets. We are delighted to be part of this knowledgeable and innovative project team and to bring the next generation solutions to the market."
The launch of these samples seeks to add to BOBST's existing contributions to sustainability and circularity in the packaging and label manufacturing sector. In 2019, BOBST was award gold at the Sustainability Awards for its IoD and DigiColour innovations in packing machinery.