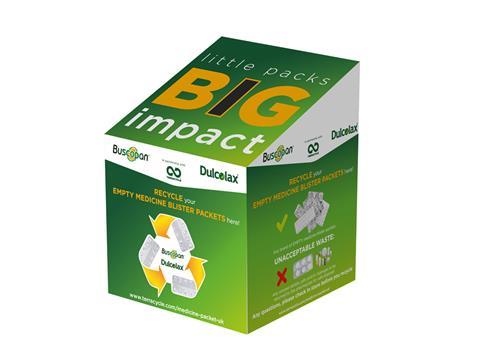 TerraCycle has partnered with biopharmaceutical company Sanofi, the maker of Buscopan and Dulcolax, to launch a new initiative that allows consumers to recycle their empty medicine blister packs.
The 'Little Packs, Big Impact' initiative allows consumers in the UK to recycle any empty prescription and over-the-counter medicine blister packets for free by dropping them in dedicated bins when they visit a local participating pharmacy.
The empty blister packaging will then be converted by TerraCycle into reusable raw materials using a unique recycling process. The partnership aims to set up 400 pharmacy drop-off recycling locations across the UK in the first year of the project.
Silvina Vilas, UK marketing director at Sanofi Consumer Healthcare, says: "Many people rely on medicines to manage self-treatable and long-term conditions, yet until now there hasn't been a solution for the growing problem of medicine packaging waste. We believe in a healthy gut and a healthy planet, so are starting a movement to make it easier for people to recycle blister packs.
"Working together with pharmacy teams and the public, our ambition is to help reduce plastic waste from landfill by letting little packs live again as reusable products, from waste bins to outdoor furniture, resulting in a big positive impact on the environment."
To mark the launch, research done by Buscopan and Dulcolax found that 65% of the people surveyed use medicines in blister packs at least once a week, with issues such as headaches/migraines (85%), hay fever (50%), and digestive health conditions (43%) ranking as some of the biggest contributors.
The new initiative also seeks to address consumer concerns around the rise of plastic waste. The research, conducted before COVID-19 measures were introduced, found that almost two thirds (64%) have become more conscious about the importance of recycling over the past year.
Commenting on the recycling issues associated with many blister pack solutions, Laure Cucuron, general manager for TerraCycle Europe, adds: "Blister packs are made of a complex mix of difficult-to-recycle materials required to protect medicines, including plastic and aluminium foil, which are not accepted by most council recycling systems so end up in household waste.
Registered pharmacies across the UK can sign up to the programme by visiting the TerraCycle website. Once registered, they will appear on an online interactive map on the site, allowing customers to locate their nearest participating pharmacy drop-off point.