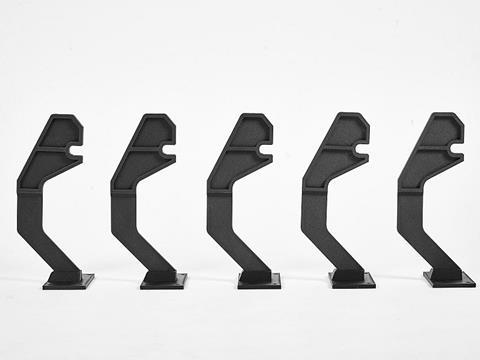 If packaging waste cannot be avoided, the question arises, what to do with it? In addition to the standard recycling programmes, there are also various initiatives to process difficult to recycle plastic packaging waste, for example into flower pots and park benches. Print Your City! is an ongoing research project that uses 3D printing to deliver something a bit more exciting than just a humble bench.
Rotterdam-based design studio The New Raw, which works towards closing material cycles and strengthening local production using an open and scale-less approach that is based on material research, digital design and fabrication, has started to work on the Print Your City! project to use plastic waste to produce 3D-printed street furniture. The first result was the XXX Bench, a creatively shaped, 3D-printed piece of furniture for the city of Amsterdam, created in 2016.
The project was continued in Thessaloniki in Greece. As part of the "Zero Waste Future Programme" in collaboration with Coca-Cola, citizens can actively participate in the recycling process in a special laboratory, the Zero Waste Lab, and design street furniture directly on site.
"The Zero Waste Lab features its own in-house recycling plant that can process PP, PE and PET. Visitors have the opportunity to experience first-hand how recycling works and thus gain a direct connection to the process," explains Foteini Setaki, co-founder of The New Raw.
The New Raw has developed the 3D printing process itself. "We use a KUKA robot arm connected to an extruder with a heated hose. We developed the connection ourselves to enable printing of more complex shapes tailored to our particular needs. We use different nozzle sizes (from 2 mm to 8 mm) to enable different applications," says Ms Setaki.
The first prototypes for Thessaloniki were printed in the summer of 2018. The 3D printed street furniture boasts integrated additional functions. Each object can be equipped with a bicycle rack or a mini gym, a pot for a tree or even a dog bowl or a bookshelf.
Ms Setaki sees great potential for the project also in other cities.
"It's great to be able continue our project in Thessaloniki on a larger scale and see how our furniture works outdoors and responds to UV light, for example, and we hope to be able to roll out the project in other cities in the future."