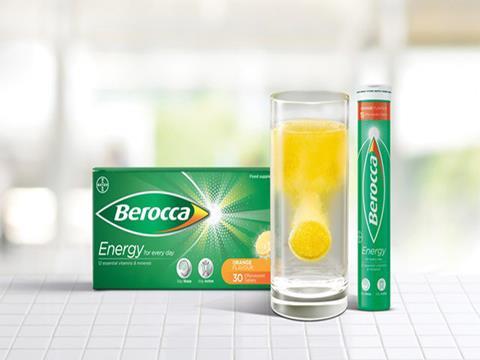 Bayer has partnered with creative agency Free The Birds to redesign the packaging of its Berocca brand, in a bid to strengthen its market position and improve accessibility.
Established in 1969, Berocca is available as an effervescent drink and vitamin tablets. Nick Vaus, partner and creative director from Free The Birds, says: "Berocca is a heritage brand that you can spot in almost every household.
"As such, the new brand identity had to retain the existing brandmark, but elevate its positioning on the consumer health market."
Free The Birds says that the redesign involved new branding, typography, iconography and an improved colour palette. It adds that the overall purpose of the new packaging is to simplify Berocca's product messaging and consumer navigation.
For example, Free The Birds has added an energy burst symbol alongside the Berocca logo to resemble the product's reported health efficacy. It adds that the new packaging highlights the "iconic Berocca fizz moment", which it considers a key asset for the brand.
A specific layout for the ingredients has been added to the back of the packaging, which the company claims has made the scientific aspects of Berocca more accessible. This is intended to promote clinical evidence of the product's effectiveness and clearly communicate its benefits to consumers.
The colour palette update across the Berocca portfolio also aids navigation, according to Free The Birds. The primary Berocca colours of yellow, orange, green, silver and black will be used for the Energy and Boost ranges, whereas a colour palette based on flavour will apparently differentiate lozenges.
Chris Padain, VP head of design and packaging from Berocca, adds: "Our brand needed a refresh in order to further engage the consumers, who are putting self-care and wellbeing at the forefront of their shopping experience.
"Free The Birds has been an excellent partner to our brand journey and has reinforced our product benefits on-pack, whilst remaining consistent with our legacy."
The new packaging for Berocca has been rolled out in the UK and France, and will apparently be available across 70 markets in the future.