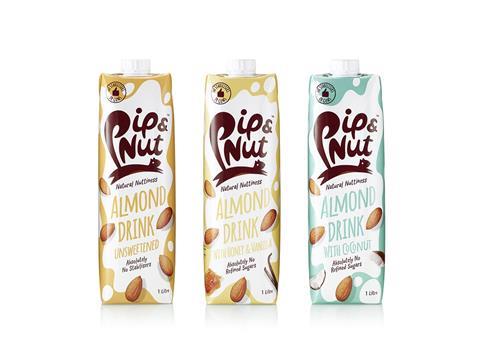 Maintaining the brand promise
Shaun Bowen, Founder and Creative Partner, B&B studio, says: "Having worked with Pip & Nut from the brand creation stage as strategic and creative partners and brand guardians, we were able to ensure that the design for this new range of almond milks is rooted in the brand's ethos of natural, nutritious and delicious nut-based products.
"With complexities around whether dairy alternatives can be branded as milk, we translated the white background of the Pip & Nut butters packaging into a representation of the product, embracing the existing style so that the branding remained recognisable to the core customer base but subtly reflected the product inside."
Pippa Murray, Founder, Pip & Nut, says: "Building on the explosive success of our tasty, healthy alternatives to traditional nut-based products, the launch of this new range of Pip & Nut almond milks takes us from the spreads aisle into an exciting new category. We feel that this is a great next step for our playful lifestyle brand, enabling us to deliver delicious and nutritious alternatives to the table from early morning coffee until supper time."
B&B studio was appointed by Pip & Nut in 2014, working collaboratively with founder Pippa Murray to reinvent the nut butter market with energetic branding and on-the-go squeeze packs. The full product range now includes jars of nut butters, squeeze packs, and almond milks.
More info: