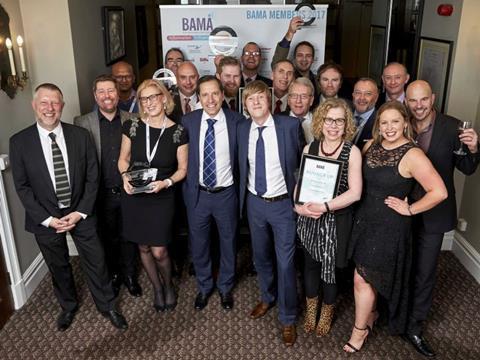 The British Aerosol Manufacturers' Association's (BAMA) has announced the winners of its annual awards at the 2017 Forum and Awards Dinner, held at the prestigious Oulton Hall Hotel, Leeds.
Following a record number of entries in four categories; Aerosol Packaging, Sustainability, Process Safety and Training and Aerosol of the Year, the winners, runners up and highly commended were selected by a panel which included:
- Robert Fell, Chief Executive of the British Metals Recycling Association (BMRA)
- Lucy Cook, Communications Manager of UKLPG
- Ben Mitchell, Research Fellow from the Retail Institute at Leeds Beckett University
The judges said "the standard of the entries was extremely high, which not only made the experience both hugely enjoyable, but also reminded us why the UK aerosol industry is so successful.
"Our congratulations go to all the entrants, but especially to the winners!"
The winners and runners up in each category were:
Aerosol PackagingWinner: Ball Corporation for their Tactile Can.
Ball Aerocan's innovative design and distinctive, tactile print finish which provides a point of difference to other aerosols, was recognised as the winning entry.
Runner up: Airpure®.
Commending Airpure® on its dry spray Air Freshener 'Press Fresh', the judges recognised Airpure's innovative 'stick on the wall' functionality and informative design which states how many doses the aerosol can dispense.
SustainabilityWinner: Unilever UK
in conjunction with Moravia Cans for their DWI Aluminium Can.This entry, highlighting a 20% lighter aluminium can within its Dove range, offering 20% more cans per pallet and 20% fewer truck and pallet movements, was recognised as the winning Sustainability entry.
Runner up: Wear Valley Aerosols for their 'Heat Exchanger Project'.
Wear Valley Aerosols was commended by judges for the carbon reduction and water savings offered by its innovative sustainability project.
Process Safety and TrainingWinner: Swallowfield plc for their Safety Targeting Programme.
Swallowfield's work to improve safety culture and the implementation of its hazard spotting exercise was recognised as the winning entry in the 2017 Process Safety and Training award.
Runner up: Alloway UK for their Low Line Speed Microleak Detection System.
Alloway's new leak detection system was recognised as being an attractive and affordable proposition for many smaller businesses and will assist in raising general safety standards.
Aerosol of the YearWinner: Swallowfield plc & PZ Cussons for their Sanctuary Spa Shower Burst
Swallowfield's Sanctuary Spa shower gel was praised for its superior functionality, subtle design and innovative colour matching between the gel and the can decoration.
Runner up: Church & Dwight UK for their 50ml sleeved aluminium Batiste Marrakech Dry Shampoo.
For its efforts to simplify the supply chain, Church & Dwight was recognised by the judges for its Batiste Dry Shampoo product which featured an innovative sleeve design and offered an exotic, refreshing fragrance.
Highly commended: Airpure®Airpure® was highly commended by the judges, its Press Fresh air freshener product showcasing innovative design, consumer focus and superior functionality.
Tom Gilmour, Aerosol Chemist at Precision Valve UK, was also recognised by BAMA for his outstanding contribution to the aerosol industry and presented with the Special achievement Award 2017.
Patrick Heskins, BAMA chief executive, said: "The BAMA Awards has been the social highlight of the aerosol industry's calendar for nearly a decade and recognises the exceptional skills and high standards of innovation across the industry.
"I would like to offer my congratulations to the winners, runners up and those who were highly commended and thank all those who entered the 2017 Awards. All of the entries proved to be of an exceptionally high standard which is testament to the skill, commitment and drive which our industry possesses and its ambition to create a sustainable future."
In addition to free publicity the winners in each of the four categories receive a £500 voucher with runners up receiving a £250 voucher.Last year's winners included: CRC Industries UK LTD, Arrow Chemicals – part of Reabrook Ltd and Ball Corporation.
More info: