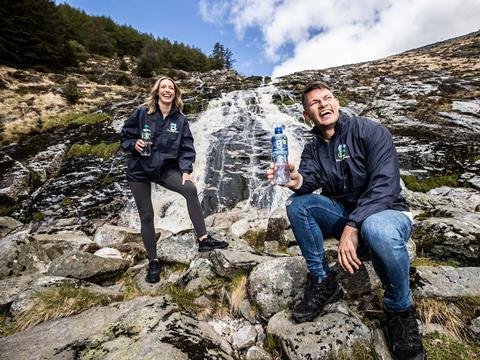 Ballygowan, a Britvic-owned Irish mineral water brand, is moving to 100% recycled plastic bottles after the company invested €2m in operations at Ballygowan's Newcastle West source in Limerick.
The move is a part of Britvic's Healthier People, Healthier Planet sustainability strategy, which is scheduled to see all of its GB-made bottles including Robinsons, Fruit Shoot and Tango also switch to 100% rPET by the end of 2022.
According to Britvic, this change will facilitate the removal of 51 million virgin PET bottles, the equivalent of 1,288 tonnes of plastic.
Later this year, Ballygowan also plans to remove a further 245 tonnes of plastic through packaging redesign. The company says that, when recycled correctly, these new 100% rPET bottles can be reused continuously.
Ballygowan is the latest Britvic brand to make the switch, following Fruit Shoot Hydro's move to rPET bottles in September 2020.
In order to support this and further transitions, in 2019, Britvic provided a £5m investment support package to Esterform Packaging Ltd, helping it to build an rPET manufacturing facility in North Yorkshire in the UK. Britvic says that this long-term supply of rPET will be crucial to it delivering its 2022 goal.
Kevin Donnelly, managing director at Britvic Ireland, comments: "By its nature, Ballygowan has always been attuned to the importance of our environment. The purity of our water depends on a natural filtration that is embedded in the earth.
"By investing in a fully recycled bottling system, we are taking a major step to reduce our impact on the planet. This is the latest innovation in a journey which has already seen a reduction of over 90% in our manufacturing emissions for Ballygowan."
Sian Young, head of people and planet at Britvic Ireland, adds: "At Britvic, we are on the path to a more sustainable future and are excited to take this next step on the journey with our consumers by offering 100% recycled Ballygowan bottles and asking they recycle them after use."