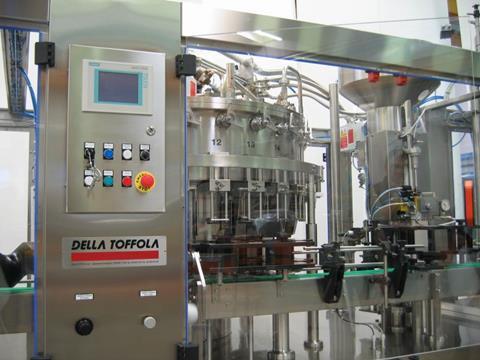 At the PPMA Total Show, stand B20, AVE UK will launch its new range of bottling equipment in either Monobloc (filler/capper) or Unibloc (rinser/filler/capper) version, capable of handling a variety of different materials within one single machine.
With the war on plastics affecting the drinks and liquids industry hardest, bottlers need economical rinsing, filling and capping lines to quickly switch between and handle multiple types of materials on a single machine; from plastics and glass to aluminium and biodegradables. Suppliers of high-quality bottling and packaging machinery from semi-automatic to turnkey lines, AVE's latest range provides this flexibility, allowing producers to expand their operations without fear of obsolescence.
Many beverage manufacturers currently have dedicated lines only capable of handling PET (polyethylene terephthalate) plastic bottles; the preferred pack type for the beverage sector. Globally, we now buy one million plastic bottles per minute but fewer than half are recycled . The recent plastic backlash has therefore made many drinks producers hesitant of investing further in equipment which solely handles PET.
To combat this, AVE's range of rinser/filler/cappers are suitable for a variety of applications and can handle multiple substrates – both plastic and non-plastic. They also come with a range of end-of-arm tools to suit your particular capping requirement.
"Producers are looking away from plastic bottles towards alternative materials, such as glass and aluminium, to appeal to increasingly environmentally-conscious consumers," says Steve Bradley, Sales Director of AVE UK, part of the Della Toffola Group. "As a result, there has been a slowdown in investment in bottling machines that can handle only PET. But purchasing separate machines for different substrates can prove costly, as well as taking up valuable floor space within the factory. Our cost-effective solution not only enables producers to quickly flex between different materials, it also comes with a variety of quick-release change parts, allowing producers to specify a machine that meets their individual needs both for now and for the future."
AVE's Monobloc and Unibloc rinser/filler/cappers offer solutions between 12 and 80-head fillers and have cleaning-in-place (CIP) as standard. They are suitable for operations of all sizes, from cottage industry to multi-nationals, and range from semi-automatic to speeds in excess of 60,000 bottles per hour.
Filling machines within the range include:
• Liquid (still and carbonated products);
• Gravity (still products);
• Counter-pressure (carbonated products);
• Volumetric (viscous products such as ketchups and sauces);
• Non-contact Electronic (still liquids, giving a longer shelf-life);
• Ultra-clean Non-contact Electronic (dairy products which require the highest standards of hygiene);
• and Mass Flow Electronic (non-conductible liquids such as oil).
The machines can be designed to cope with a variety of closure options, including plastic, roll-on pilfer proof (ROPP), twist-off, sports caps, stopper corks, corks and crown caps; all of which can be changed over within minutes.
"Producers are understandably nervous of making any purchasing decisions in the current anti-plastic climate," adds Steve Bradley. "Knowing that there is an option available which allows them to continue bottling with PET, while at the same time use alternative materials as required, future-proofs their investment during this transitional period. The fact that the machines can be tailored not only to the individual size of operation and product to be handled, but also to the closures required, further adds to their appeal. We look forward to discussing the bottling needs of Total Show visitors at stand B20."