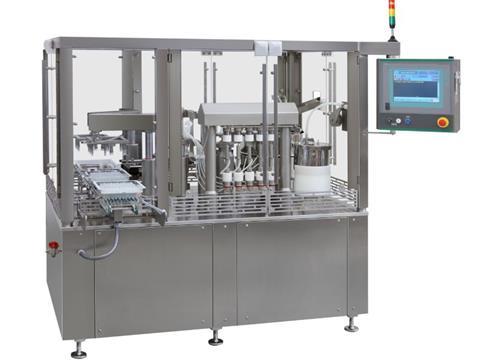 In April the Marchesini Group will be returning to the Jacob K. Javits Center in New York for the 39th edition of Interphex, the premier pharmaceutical, biotechnology and medical device development and manufacturing event in the U.S.
This year again, Marchesini's American team is anticipating a well-attended booth with the FSP 05 syringe filler and DUMEK TURBO-MEK 150 turbo-emulsifier on display.
Machines exhibited
Machine model FSP 05 has been developed to meet the increasing production requirements of products classified as pre-filled syringes. This filling and stoppering machine for nested syringes is compact and flexible, able to produce up to 12.000 pieces/h. The machine offers excellent fill accuracy with various dosing options, and precise and gentle centering and handling of syringes which minimizes the risk of breakage.
The FSP 05 will be joined by TURBO-MEK 150 vacuum turbo-emulsifier, illustrating Marchesini Group's dedication to the cosmetic market. This can also been seen in Marchesini's creation of a dedicated beauty division with Headquarters and manufacturing to be situated near Marchesini Group HQ in Pianoro.
The TURBO-MEK machines are designed to process liquid and creamy products such as emulsions (cream and milk products), serums, oils and balms, gels and lotions. Special versions of these machines can process other products such as make-up (mascara, foundation), hair dyes, toothpaste and mud products.
All the functions required to ensure efficient operation of the turbo-emulsifiers and to set the working parameters are managed and programmed from the control panel.
On the stand of Marchesini's co-exhibitor, SEA Vision, will be model BL A309 carton serialization unit, manufactured at Neri facility. SEA Vision is one of the leading Italian suppliers of vision and inspection systems used in Quality Control and Drug Counterfeiting.
On January 31st 2018, the Marchesini Group signed a 48% acquisition of SEA Vision, an agreement which will allow the Group to create packaging machines that are even more unified with SEA Vision's systems, in order to guarantee customers a true 4.0 asset.
"Interphex is an extremely valuable platform connecting leading technologies and companies in the industry" said Roger Toll, Executive Vice President of Marchesini Group USA. "This year, visitors will find an effective blend of innovation and technology creating efficient and advanced solutions in the pharmaceutical industry".
More info: