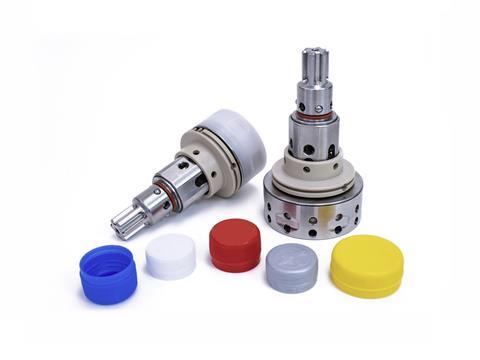 To better satisfy the increasing demand for more efficient bottling lines, AROL, a leading producer of closure systems, has developed a new solution designed to optimise work times and performance of capping machines: the UNI CHUCK.
UNI CHUCK is the self-adapting closure chuck designed and developed in order to simplify the application of flat pre-threaded plastic caps.
The innovative system patented by AROL, reduces line stops due to format changes, thanks to its ability to handle the same type of cap having different colors, knurlings and sizes, as well as caps by different manufacturers, compensating differences in height and diameter of up to +/- 0.5 mm (with respect to the nominal dimensions).
For wider caps tolerances, the system is characterized by the rapidity and ease of format changes, along with its adaptability: this new chuck can in fact be quickly disconnected, re-inserted and applied to different types of capping heads. Its flexibility is owing to the ability of UNI CHUCK to adapt to all AROL capping heads on AROL mechanical cappers and servo cappers.
UNI CHUCK works in both aseptic and hot or cold filling conditions, easy to be cleaned because of a number of drains in various points along the device.