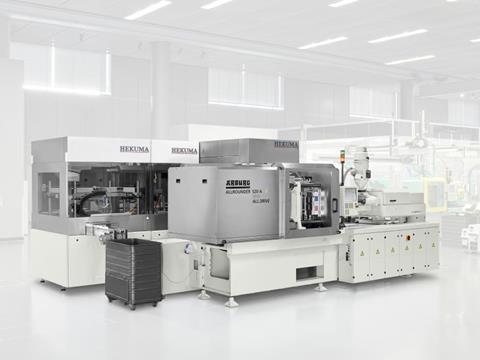 On 7 and 8 February 2018, Arburg will be represented in hall 7.1, stand H11 at the Pharmapack Europe 2018 in Paris (France).
Here, the experts will provide information on the extensive range of machines and solutions for plastic part production in the medical technology, clean room and packaging sectors. The machines range from high-speed, high-performance models and clean-room Allrounders in stainless steel versions to the Freeformer for industrial additive manufacturing, as well as automation solutions and complex turnkey systems.
"The current trend towards local product manufacturing in the pharmaceutical and medical industries will increasingly lead to investments in highly automated manufacturing facilities in Europe. Our team of experts pools years of experience in medical technology and pharmaceutical packaging, which we offer our customers in the form of tailor-made solutions," says Martin Manka, Senior Sales Manager Medical at Arburg. "The new requirements in the production of pharmaceutical and medical technology products demand the highest precision and reliability from the injection moulding machines. Whether hydraulic, hybrid or electric – our Allrounder machines meet the stringent clean room requirements of the ISO and GMP classes." The excellent connectivity of the machines has been proven in medical turnkey projects, adds Manka. Traceability in quality management according to the new Medical Device Regulation (MDR) of the European Union is supported via the Arburg host computer system (ALS).
High-speed, high-performance machines
Further trends include high-speed, high-performance machines for pharmaceutical packaging and the use of complex moulds, including cube-mould technology. Here, there are increasing synergy effects with the packaging industry, where Arburg also possesses a high level of expertise and sophisticated machine technology.The "Packaging" versions of hybrid and electric Allrounder injection moulding machines are designed for high-quality and efficient high-volume production and are therefore ideally suited to the manufacture of thin-walled mass-produced items, closures, pipette tips or syringe barrels. They are characterised by short cycle times, reproducibility, reduced energy requirements, as well as process stability and a long service life.
Production concepts for clean room conditionsAll Arburg injection moulding machines are individually configurable so that they can be precisely tailored to the relevant requirements, including the control system, automation and peripheral equipment. A variety of clean room concepts and the extensive experience of the Arburg team of experts over many years, as well as cooperation with competent cooperation partners, result in reliable, high-end solutions in the pharmaceutical and medical technology sectors. The spectrum ranges from machines that are docked to a clean room, through to complex production cells directly in the clean room itself. Which variant is used in individual cases depends primarily on the specific customer and part requirements.
Automation and complex turnkey systemsOne example of an automated medical high-end application is the production of pre-filled COP syringe barrels with a stainless steel electric Allrounder that meets the stringent GMP requirements. A laminar-flow box above the clamping unit ensures clean production conditions and prevents electrostatic discharge.
Ambitious material processingPlastic products that perform preventive or therapeutic functions within the body in the form of drug implants have enormous potential. One example of this is the production of a vaginal ring for HIV prevention. In this case, Arburg acted as primary contractor, developing and implementing a complete production cell. This complied with validation of the guidelines for medical devices in Europe (MDR) and the US (FDA).
Micro production cell for tiny partsArburg offers a complete micro-production cell that can be flexibly used for the reproducible production of extremely small parts and micro implants, as required in minimally invasive interventions. This comprises a small electric Allrounder 270 A injection moulding machine equipped with a Euromap size 5 micro injection unit and a horizontal dual arm robot for the reliable separation of micro components and sprues. The micro injection unit combines an 18 or 15-millimetre screw for melting the material with an 8-millimetre screw for injection. This enables problem-free processing of normal granulate sizes and therefore all common materials.
Additive manufacturing in medical technologyArburg offers the Freeformer for additive manufacturing of one-off parts and multi-variant small-volume batches, which could also be used in a clean room setting. The freedom in the choice of materials offered by this open system opens up completely new applications: Arburg demonstrated that the Freeformer can in principle also process medical PLLA, based on the example of facial, cranial and hand bones. Other applications include personally customised surgical aids, such as positioning templates for prosthetic
More info: