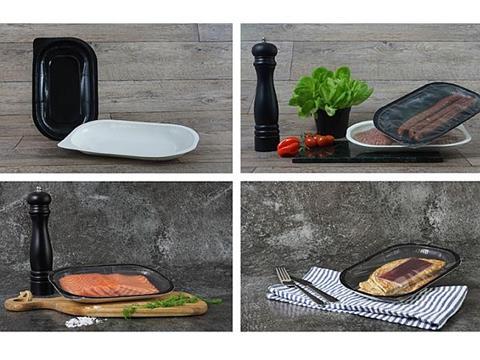 AR Packaging has presented a gas tight pressed board tray packaging for chilled foods as a replacement of plastic trays, which the company says is the first on the market and offers an efficient solution well suited for giving a shelf life of at least 18 days.
The increasing demand for sustainable packaging has led to work on a gas tight carton-based trays. The solution now launched is based on technologies and materials from CC Pack and Flextrus, both plants situated in Sweden.
"We have invested lots of effort to develop this new revolutionary packaging solution. The shape of the tray is optimised to ensure tight packs which gives a shelf life of at least 18 days," says Åke Larsson, MD at CC Pack. "We thereby meet the needs for a wide range of chilled food products, such as fresh meat and chicken, processed meat, cheese and ready meals etc."
Ingrid Lidbäck, AR Packaging AB's group marketing manager explains the technology to Packaging Europe: "The board trays are produced with form pressing technology using a coated carton board. Thorough development and testing has been performed to finetune forming shape and conditions in order not to destroy the barrier, which consists of a PET coating on the inside of the tray. It is a moisture, grease and oxygen barrier. The fibre content of the tray is approximately 90%.
The board trays are supplied together with a matching lidding material which provides a safe seal and a barrier adapted to the packed product's needs.
"The lidding film is mono PET based laminate with seals safely to the PET inside the tray. It can be peel opened and provides high product visibility thanks to its excellent clarity," Ms Lidbäck adds.
"The trays can be recyclable in most countries thanks to the high fibre content. The recycled fibre part will be used for new fibre-based products. The plastic part is predominantly energy recycled today, but intense development and large scale investments are currently happening in several countries in Europe to enable material recycling of the plastic part in the future."
The new gas tight board tray concept from AR Packaging also supports product branding thanks to its look and feel of paper. AR says that the solution is the first pressed board tray packaging on the market. They can run on existing tray filling and sealing machines, and tests are already ongoing with several major chilled food producers in Europe.