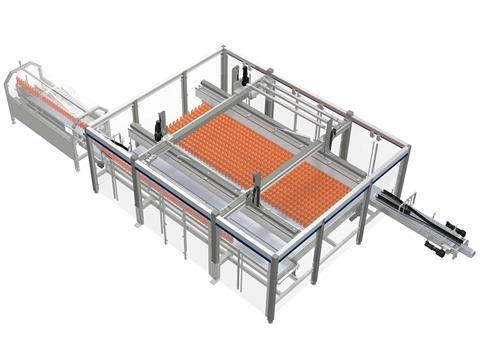 Extremely compact, smart design offers up to 40% space saving
All the conveying functions of AQFlex, including contactless accumulation and multilane machine infeed, are cleverly regrouped into this single, universal, handling solution. As all conveying and accumulation is carried out as a single-file process, the usual peripheral conveying functions associated with mass accumulation - such as deceleration, de-grouping, combining and laning - are completely eliminated.
For minimised TCO and optimised operability, the solution from Gebo Cermex offers the best accumulation/space ratio on the market. Its compact design provides up to 40% space savings compared to traditional solutions and, as a result of its compact footprint, AQFlex is easily integrated into existing production lines. The solution has a clear and open design that gives full accessibility at floor level for enhanced ergonomics and easy cleaning. Having only a few added mechanical parts compared to a conveyor, maintenance of AQFlex is comparable to that of a standard conveyor - without the need for any lubrication.Discover why AQ is the new IQ at Drinktec 2017.
More info: