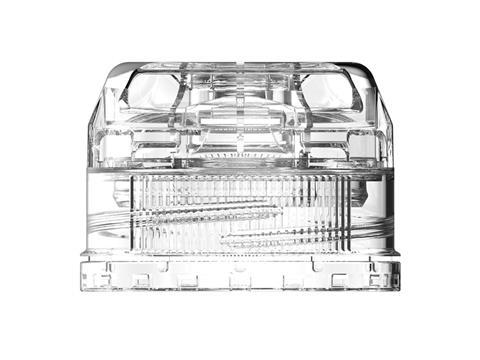 Aptar Food + Beverage, a global manufacturer of dispensing solutions, has announced a technical collaboration with Claranor, an expert in pulsed light packaging sterilization.
Claranor's FULLCAP sterilization solution is being used on Aptar's Uno sport cap polypropylene (PP) family, with the partnership focusing in particular on the functional beverages market.
Functional beverages contain vitamins and minerals that boost energy and help recovery. These products, which are often capped with the most advanced sport closures, require a specific sterilization process that Claranor is able to provide.
Claranor's FULLCAP pulsed light sterilization solution goes through the closure, allowing sterilization under the cap, where chemicals cannot go or could be trapped. Claranor describes its equipment as compact (600mm high) and says it provides an instant treatment that can be used on speed lines up to 60,000 bph with no chemical nor residue.
This solution provides inner and outer decontamination for Aptar's Uno PP sport closure family in the translucent material version, and is adapted for high acid aseptic lines. In addition, with its non-chemical and non-thermal treatment, Aptar says that it respects the integrity of the packaging and the product inside.
The Aptar Uno sport cap itself is a one-piece design, made with mono-material with the aim of improving recyclability. Its active hinge facilitates one-hand opening and closing, and the 28mm version is tethered to the bottle; helping to improve the closures' recyclability rates.
This closure is available in 1881, 38mm 2S and 3S neck finishes. The development of Uno, and its ability to be sterilized with pulsed light, was driven by the continuous growth of aseptically processed, shelf-stable beverages, such as preservative-free functional drinks.