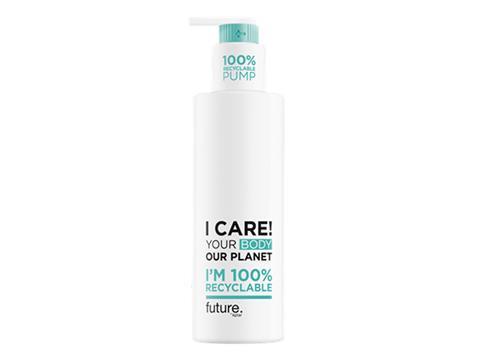 Aptar Beauty + Home is launching a recyclable, mono-material pump for the beauty and personal care industry, called Future.
In order to facilitate recycling, the solution was designed using polyethylene (PE) mono-material only, and is certified by Cyclos-HTP, the institute for Recyclability and Product Responsibility. The innovation is also recognized "A" by RecyClass – a cross-industry initiative that works to establish a harmonized recycling approach and traceability in Europe.
Traditional pumps may contain different materials, including metal components that can in some cases complicate the recycling process. Because the Future pump is made from PE only, it also aligns with the most common materials used to make bottles – PE and PET – thus making the entire pack easier to recycle.
Future is also available using post-consumer resin (PCR), alongside Aptar Beauty + Home obtaining an International Sustainability & Carbon Certification (ISCC) for its European production.
"Our ultimate goal was to have the final consumer be able to take their body lotion, shampoo or shower gel and easily put the empty packaging in their recycling bin. This way, it enters a circular life cycle and can be turned into another product," says Sabine Bouillet-Lubot, global strategic marketing director at Aptar Beauty + Home.
A key feature of the solution's design is an incorporated on/off locking system and a 360° actuator. The locking system has a ring with an on/off actuation, which opens or locks the pump with an accompanying; double-click sound. The 360° rotator facilitates the free orientation of the actuator.
Brands can choose from several different ring colours for customization. Another reported benefit is that Future combines well with transparent PET bottles, not only due to the recyclability but aesthetically with a clear dip tube. This modern take on closure design also renders Future compliant with the rigorous Amazon ISTA 6 protocol.