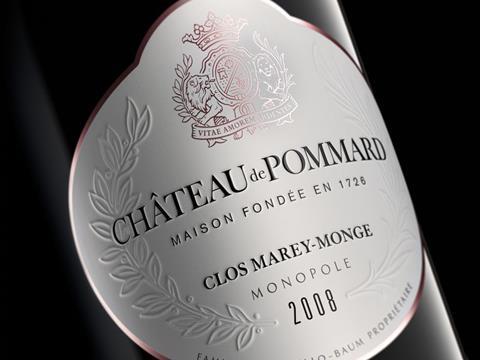 Founded in 1726, Château de Pommard remains the largest monopoly and one of the most iconic wine estates in Burgundy. Clos Marey-Monge, at the heart of the domain, has been producing one of the greatest expressions of Pinot Noir for more than two hundred years.
In 2014, the chateau was bought by Michael Baum, a serial entrepreneur from the Silicon Valley who aspired to share his passion of Burgundy wines with the world. The boutique branding and packaging design agency Appartement 103 had the privilege to thoroughly reinvent Château de Pommard's brand positioning, by developing an exciting communication platform that would radiate onto the bottle, labels, boxes as well as digital communication and other touch points.
"When we first met Michael, we immediately understood that Château de Pommard had everything in its roots to become a top luxury brand. It has an incredible heritage and savoir-faire, producing some of the most exquisite wines in the world. Our role was to reveal this hidden diamond in a contemporary manner, targeting a younger generation of wine consumers searching for engaging relationships with modern and trustworthy brands. Working closely with Château de Pommard's team, this immersive collaboration flourished into an inspiring brand philosophy, aiming to shake Burgundy traditions and truly connect with the target audience's mindset." Says Appartement 103's Creative Director, Julien Zylbermann.
The starting point of the design process was the development of this incredible bottle shape imagined by Michael Baum himself. He had the dream to create the purest bottle shape ever produced, with delicate contours in order to convey the innovative and pure character of the brand. After months of trials and design approaches along with Chateau de Pommard's team and their glass supplier, we were able to finally bring the first bottle in the world without a neck ring to life, achieving the intended shape from bottom to top. A subtle change to the eye that perfectly delivers the unexpected, yet, truly elegant and desirable bottle Michael imagined for Château de Pommard.
The primary and secondary packaging presentations also perfectly embodied the new Château de Pommard's positioning "Fall in love with Life". It stands for an unpretentious design, full of elegance, refinement and poetry, a common trait found in the whole portfolio. A modern approach that challenged Burgundy wines tradition in order to be set apart from their competition, however, still respecting the brand's roots and category codes.
"It was inspiring to work, hand in hand, with a client that is as obsessed about details as we are! From the development of a stunning bottle, a unique and ownable brand foil colour, the selection of materials that would express the highest quality, to the use of the most selective printing techniques, every single detail was carefully looked into to create these stunning packaging designs.Above all, the success of this project lied in the dynamic and passionate partnership we built with Michael and his team. "Fall in Love with life" is not only the new brand mantra of Château de Pommard, it is a life philosophy guiding attitudes and initiatives to building an incredible story." added Appartement 103's Creative Director, Marc Savary
"Consumers today want to connect with brands that have passion and purpose. Our vision at Château de Pommard is to resonate with a new generation of wine lovers who seek a harmonious connection with nature and want to engage with wine on a deeper level through educational and enjoyable experiences. Our modern, elegant brand respects tradition but also looks forward to the future. Appartement 103 have helped us realize the perfect embodiment of our ambitions. Julien and Marc have been, and continue to be, our creative partners and the visionaries we need to bring our dreams in Burgundy to life." says Michael Baum, Proprietaire and CEO of Château de Pommard.
More info: