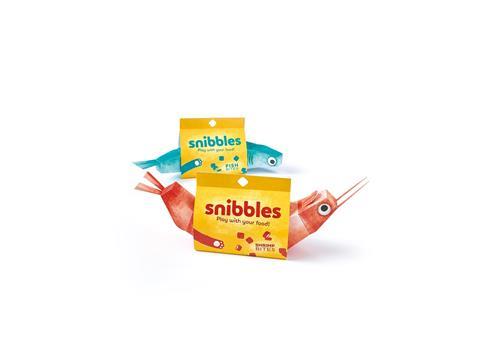 There are two product variants which are listed on the front of the outer pack, 'Fish Bites' and 'Shrimp Bites', the word 'Bite' indicating that the product is a snack. The back of the outer pack communication further supports the brands purpose and values with illustrations to tell the story of the products role and intended use.
Cat owners can hide the product in their home or give it directly to their cat. The structures of the shrimp and fish themselves are folded in such a way that they can bend and flex – mimicking the movements of a real shrimp or fish. As the cat plays with the packaging, the snack bites will begin to fall out. The more the cat plays with the packaging, the greater number of tasty snacks it will get – encouraging natural cat behaviours to improve the health of your cat.
The physical packaging is made from recycled paper and the design uses soy based non-toxic ink to protect against possible ingestion. Though why eat the paper when the bites are so tasty! The graphic design and illustration style are friendly and fun to further support the playful credentials of both brand and product use.
Designer Patrícia Pereira comments;"This project shows the importance of designing based on insights – focusing on gaps in the market not currently met and using design in brave ways to provide new solutions. Design is a really powerful tool in responding to changing consumer desires, it's also a fantastic way of creating new opportunities for brands."