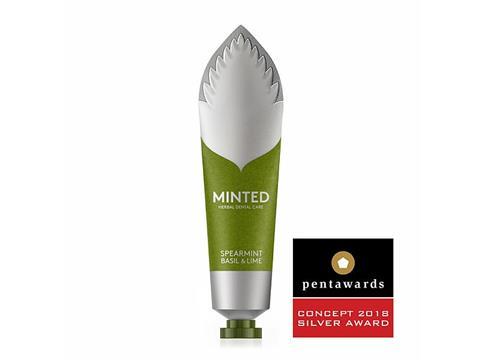 The Pentawards are the holy grail of recognition within the packaging design industry and are unquestionable proof of the quality of an agencies work. Anthem have received a Silver award for their 'Minted' concept which challenges oral care category norms.
Kirsty Cole – Head of Growth, Anthem Benelux , talks about what lies behind the success of 'Minted'.
When it comes to design for innovation, many people ask us 'where do you start?' It's no secret that within design agencies most innovative thinking begins with a burning frustration with current category design cues, codes and visual styles. This is where the story of 'Minted' begins…
Personal hygiene does not need to be purely functional and we're beginning to see small but important steps being taken across the industry as smaller challenger brands re-inject love into our staple purchases, helping to elevate the ordinary into something special.
As our collective health and wellness consciousness grows, effecting the choices we make in both our food purchases and manner of lifestyle more broadly, it only follows that such drivers also begin to bleed into consumer expectations within personal care.
Many of us spend good money on expensive hand soaps, creams and perfumes – so perhaps price isn't such a barrier to purchase within the category as it might once have been.
While we're very aware of, and sensitive to, the fact that such a design solution will not fit all oral care brands or indeed that such an approach to design is always relevant for all brand challenges, we're hugely grateful for all opportunities to explore innovative thinking and design in this way.
The Pentawards are a fantastic platform to allow designers to express and be acknowledged for their creativity and of course none of this would be possible without the continued support of our fantastic clients.
Picking up our Pentaward for 'Minted' this week in the Big Apple is our super talented Design Director Sara Jones. Sara commented;
"We are thrilled to have been recognised for our work on Minted for the concept category, it reinforces our concept car methodology of looking at design through another lens. Not following trends necessarily, but searching for insights and consumer patterns, perhaps appearing in different categories, and then bringing a fresh approach to a product which is entrenched in stayed category norms.
Elevating a commodity product with a simple twist on structural design and a few beautiful graphics is all that's sometimes needed to tell a compelling brand story in a new and exciting way.
Winning an award is always fantastic but it's the idea behind the design that holds the true value – as the old saying goes, don't work for recognition, do work worthy of recognition."
Read the full story behind the insight driven design of Minted here.