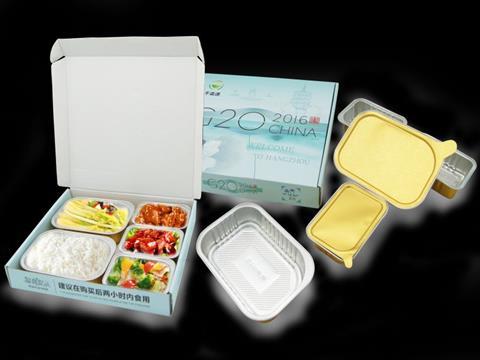 A major highlight of the winning entries were four products using aluminium foil as lunch boxes and food containers. This is an area of the market which has seen faster growth in recent years in domestic applications. In particular one winning entry, an environmentally friendly, heat seal aluminium foil container, was used during the recent G20 summit in Hangzhou.
Chinese requirements for health and safety at large international events mean that containers made from paper or plastic packaging are unsuitable for heating to the correct temperature. Alufoil containers prove to be an ideal solution and were widely used at the meeting. They are already popular in most large cities in China, for catering, schools and hospitals canteens, as well as take-away snacks, to enhance food safety.
Another winning pack, which also uses heat sealable aluminium foil containers, was for delicious and spicy crawfish, a popular food in the domestic market. These packs have enabled the sales cycle of the crawfish, formerly supplied from June to September, to be extended to all year round.
Other winning pack styles include a digitally printed personalized pouch which can offer a unique code for each pack and provides differentiation for brands and customers; an aseptic pack comprised of an aluminium foil laminate which showed, through quality improvement, the ability to use thinner gauges without loss of barrier properties and so improve resource efficiency; plus instant noodle packaging; pharmaceutical packaging; and composite-can sealing offering product safety, health, and consumer convenience.
Industrial applications also featured strongly with Trophies being awarded for ultra-wide foil composite insulation products aimed at the international construction market; ultra-thin 4-4.5mm aluminium foil power capacitors for UHV grid capacitors; and aluminium foil for lithium ion batteries which have found increasing domestic applications in the last two years. Indeed, the explosive growth of lithium ion batteries in, for example, new energy vehicles and mobile phones, has led to domestic foil makers developing high quality aluminium foils, replacing the imported ones, for battery power storage devices.
Opportunities for Chinese alufoil sector
Speaking during the ceremony Zhang Jilin, Vice chairman and secretary general of CNFA, said that although China is the world's largest aluminium foil producer and consumer, there is still a big gap between China's per capita consumption of aluminium foil compared with the developed countries. "This is a major opportunity for the sector," he considered.
"Alufoil Trophy China 2017 is of great significance, and can be a positive guiding influence for domestic consumption with high reference value. It helps to promote the advantages of aluminium foil in everyday life and opens up a new 'ocean' of possibilities to help find new areas for foil applications," he added.
At the awards Dong Chunming revealed data about aluminium foil which illustrated the importance of continuing to expand the aluminium foil market domestically. According to Sunlight Metal Consulting, China's aluminium foil, in terms of capacity, output, export and consumption, is ranked first in the world.
Chinese aluminium foil production grew from 760kt in 2006 to 3400kt in 2016, which means national output accounts for about 65% of the global total. Exports increased from 186kt in 2006 to 1080kt in 2016. Home consumption ramped up from 640kt in 2006 to 2400kt in 2016.
However, he explained, in the past two years, due to the decline in property values and so slower infrastructure investment growth, consumption of aluminium foil declined in such traditional segments as thermal transmission, construction and structural applications, electricity, and electronics.
Although Chinese exports of aluminium foil is still growing, it is facing anti-dumping tariffs from the EU, India and the United States, so the continued further growth of exports will encounter challenges, according to Dong Chunming.
Under these conditions, adjusting the product offering, developing new products, tapping new application markets and expanding domestic demand is becoming more urgent for China's aluminium foil industry, he considers.
Under these new economic realities, the Alufoil Trophy China 2017 should bring some vitality into the aluminium foil industry supply chain, encouraging and guiding enterprises and professionals to develop new products, explore new markets, realize innovation-driven development, and build a new model for industrial expansion. "We hope this event will become an engine for market development and an accelerator of both industrial growth and value chain promotion!" he concluded.
More info: