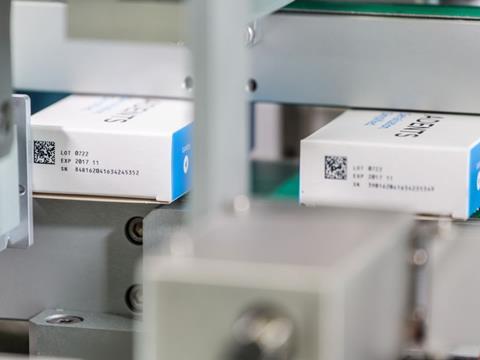 Adents, a leading provider of versatile and easily deployable serialization and track & trace software, will showcase its latest solutions to secure the pharmaceutical supply chain from May 4-10 at interpack, the world's largest packaging trade fair.
Located at Hall 6, Booth D10, Adents will showcase its two primary products, Adents Seriza and Adents Prodigi, each of which enable marketing authorization holders (MAHs) and contract manufacturers (CMOs) to comply with laws and regulations on drug traceability.
Adents has been supported worldwide by a steadily growing collection of about 300 certified solution partners and qualified mechanical engineers. The company's co-founder and CEO, Christophe Devins, has over 25 years of experience in unit-level product identification and traceability, and has overseen the outfitting of more than 2,000 packaging lines with serialization solutions.
"Our solutions for pharmaceutical packaging are primarily designed to meet regulatory requirements," said Mr. Devins. "They also ensure complete control throughout the supply chain." A designated serialization expert, Mr. Devins has participated in several international pharmaceutical congresses, and regularly lends his expertise to industry working groups and meetings toward the establishment of globally standardized serialization communication.
Pharma companies and contract manufacturers use Adents' solutions to gain speed to compliance with regulatory requirements. Since the software is hardware agnostic and therefore compatible with existing devices, Adents solutions also help increase equipment efficiency and reduce the risk of production downtime. And because the software is a 100% standardized solution, it also can be quickly implemented and configured on a new line or at multiple production facilities.
Adents Seriza and Siemens
Adents Seriza is a serialization solution for drug production. Its advantages lie in its ease of implementation into pharmaceutical manufacturing and packaging operations, and in maintaining comparably high levels of Overall Equipment Efficiency (OEE) for continued high-capacity production. This is particularly important in view of the approaching deadline for binding compliance with the EU Anti-Counterfeiting Directive (2011/62 / EU) in 2019.
The recent collaboration between Siemens and Adents creates a new approach to the market for track & trace solutions, one comprising the integration of a fully configurable software suite into the full range of standard hardware, all supported and serviced by an extensive network of global integration partners. This is among the most efficient and future-proof approaches to tackling the challenges of serialization and aggregation in the pharmaceutical industry.
"Pharma companies will have a multitude of complex issues to take into account when choosing a serialization solution: budget control, risk of productivity drops, variety of industrial equipment and tight implementation planning. The combined know-how and business insight of Siemens and Adents will provide drug manufacturers with a reliable and efficient hardware/software solution at competitive cost," said Hans Bijl, Business Development LifeScience at Siemens.
Adents Prodigi and Microsoft
Developed in partnership with Microsoft, Adents Prodigi is celebrating its first major appearance at Interpack. Adents Prodigi is a cloud platform for unique product identification (UPID) and track & trace, amounting to a powerful Level 4 traceability solution that centrally manages all serialization requirements of the pharmaceutical industry.
Based on Microsoft Trusted Cloud Azure platform (selected by the European Medical Verification Organization EMVO), Adents Prodigi is currently the only solution that provides comprehensive tools and applications for data analysis and data processing. In this way, pharmaceutical companies can make use of the immense amounts of data that accumulate during the serialization and track & trace processes.
More info: