How do we determine the value of polymers in a vast global marketplace, and with a balancing act between developing solutions by adding properties to polymers (to help save food waste for example), versus the overall carbon emissions and sustainability of the packaging material? Let's start at the end of life, focusing on the recyclability of polymers.
The end
Libby Munford asked Damien van Leuven, CEO of plastics recycling company Vanden Recycling, for his opinion on this subject. "Education in the packaging design community is the starting point. If anything, scrap recyclers like us and product designers should be the ones working closest together because we feel the impact of good or bad design and can educate about the impacts and what will actually happen to the material. To have anyone between these two parties only muddies the waters."
He continues that inconsistencies in legislation, landfill fees, recycling targets, responsibility placed on producers and overall education are the combination of factors that produce so many different grades of scrap plastics. The core challenge is that different grades require different recycling infrastructure.
Sorting, washing, filtering systems and quality of finished product will all vary depending on the input quality. This is one of the reasons scrap material is shipped around the world for recycling, because often there are no domestic facilities to treat the material in an appropriate manner. Therefore the only option is to leverage facilities that are capable of doing so in other countries.
David Wilson, MD adds that the realities of the circular economy will soon start to bite and the packaging industry holds its fate in its own hands. He says, "The thrust of much of the upcoming national and international regulations will use sticks and carrots to simultaneously increase the recyclability of packaging materials and encourage the use of recyclates in packaging."
Two things need to happen in addition to that if we are to turn these sticks and carrots into progress, according to David Wilson. "Firstly to be rigorous in the collection of low-hanging fruit like production waste. Secondly industry across the supply chain needs to work closely with local and national government to have simple straightforward instructions about the recyclability of packaging, not just whether packaging is theoretically recyclable but is actually collected and goes back into products."
The key is for the packaging industry to fully understand that they are part of the solution by creating supply that's more easily recycled and demand by including recycled content, as tough as both those requirements seem. After that the other parts of the supply chain need to preserve material quality by maintaining segregation of waste materials.
Rising to the challenge
So how are leading packaging and materials manufacturers innovating with polymer structures to rise to the challenges of the marketplace?
Jacek Madry, Global Business Leader, Hytrel®, Vamac® and Multibase™, DuPont says they consider a material's sustainability – and discuss it with customers and suppliers – at each stage of the new product development process: "Our products support extended lifespans for end applications, enable more-effective manufacturing to reduce energy consumption and scrap, and often permit lower-complexity formulations in support of recyclability."
He believes innovations will continue, but they will fall under the umbrella of sustainability: "Protection of our environment is driving every aspect of the packaging industry today, starting with changes in consumer behaviour and spending patterns. The entire packaging value chain is responding to the needs of the planet, whether it means using more energy-efficient processes, designing durable, multi-use products, taking a designed-to-recycle approach or setting up a circular economy." As sustainability gains further momentum, DuPont is actively focused on material innovations that support this trend.
Gabriel Chemie is focusing on solutions for making polymers more intelligent, improving their performance in the circular economy and making masterbatch fit for changes in society such as the rise of Generation Z. Mark Hannah, head of corporate marketing, Gabriel Chemie, shares for example they have recently introduced solutions for colouring plastics in PCR and PIR materials, carbon-free NIR black masterbatch and non-ferrous NIR black masterbatch to support the circular economy.
He adds, "Functional additives can be easily dosed to the polymer and also easily combined with other additives or colour in the same masterbatch. This results in a mono-polymer construction of packaging that helps to facilitate sorting and separating in the recycling process.
"It makes no sense for us to create solutions that aren't effective along the whole value chain. Austria and Germany are home to some of the world's leading manufacturers of machinery for recycling (NGR, Erema, Starlinger, Tomra etc). This gives us the opportunity to work closely with these manufacturers to develop closed-loop solutions that can also be more effectively recycled after use. We will also be part of an EU financed project next year to look at plastics through the whole of the cycle in a circular economy. More info on this will come in 2020."
In addition, Gabriel Chemie also has a very strong CSR drive within the company. This involves reducing its energy consumption and recycling more of its internal waste. Mark Hannah adds, "The daughter of our CEO (we are a 100% family owned company) has recently joined the board as chief sustainability officer, we will launch our first CSR report in Q1 2020. We are also investing in a large sustainable energy project (more details in Q1 2020)."
Gabriel Chemie expects to see a drive to improve the quality of recycled material and packaging and to improve more recycling materials towards food contact grade. It sees demand for packaging that is both suitable for the circular economy and attractive for consumers at the point of sale. "This is not so easy and should open up many opportunities for innovation," underlines Mark Hannah.
Dr Julien Renvoise, recycling and marketing manager EMEA, polystyrene, Trinseo, embellishes on the key trends driving innovation in this field. He states that resource reduction (e.g. energy efficiency, light-weighting, downgauging, foaming, combination of materials, design-assistance, etc.), total-system-cost savings by combining/leveraging materials and technologies, and a focus on 'design-to-recycle', technology developments supporting circular economy solutions are key. Trinseo also offers a series of post-consumer recycled content-containing resins, EMERGE™ ECO Series, that allow product designers to create products that are more environmentally friendly.
Trinseo is very active in this field and engaged and committed to developing circular economy solutions. This includes its participation in Styrenics Circular Solutions (SCS) and several other post-consumer waste initiatives, and many interactions with all participants in the value chain, including brand owners, waste management companies and recyclers.
"The entire polystyrene industry recognized that full circularity of polystyrene is a task too large for one single company to conquer. That is why the value chain has come together under SCS, a joint industry initiative that drives the shift to a more circular economy for styrenics," states Dr Julien Renvoise.
Through SCS, Trinseo signed up last year to become a member of the Circular Plastics Alliance. The Circular Plastics Alliance gathers public and private stakeholders (recyclers, plastics association, brandowners, municipalities, government, etc…) in the plastics value chain to promote voluntary actions and commitments for more recycled plastics. The Circular Plastics Alliance wants to ensure that 10 million tonnes of recycled plastics are used to make products in Europe by 2025. This European alliance is an important platform to engage with the whole value chain and encourage collaboration to allow the transition from a linear to a circular plastics economy.
"Our efforts and investments are critical to meet the ambitious recycling targets set by an increasing number of countries around the world. Our approach is contributing to moving away from the linear plastic economy to a circular approach, protecting the environment and saving valuable resources," says Dr Renvoise.
He expects to see over the next few years development of mono-plastic solutions (ie. less complex, easier to recycle), and the development and massive use of high-quality (including food contact grade) post-consumer plastics. New business models will emerge for plastics, and societal behaviour will be incentivized by monetizing plastic waste. He also predicts resin producers will buy recyclers and there will be more assessments of the carbon footprint of the plastics over their whole life cycle (water usage, GHG, waste usage, etc…).
Enhancing properties
Many customers are looking towards the modification of polymer properties with additives so they can enhance polymer properties such as better scratch resistance or reduced noise, enhance processing efficiency, and expand their product portfolio with entirely new solutions and explore new applications or markets.
These objectives align with megatrends such as sustainability, where modified polymers can support initiatives including reducing waste, lowering energy consumption and increasing the durability of final products.
The recently launched DOW CORNING™ AMB-12235 masterbatch is designed to address these needs. This silicone-based masterbatch for multilayer polyethylene blown films extends properties by combining two capabilities – slip and anti-block – in one solution. It enhances processing by improving slip performance – particularly for tacky resins (plastomers) – over time and under high temperature conditions. This stable and consistent slip performance over the long term contributes to increased production speed, uninterrupted throughput and uniform film quality.
Film converting processes, particularly form-fill-seal (FFS), require high throughput. Packaging units cannot afford inconsistent speeds or even loss of speed during the bagging step. This speed is affected by the friction generated by contact between the film and metallic parts, which should be as low as possible.
Before it arrives at the FFS operation, the film goes through multiple converting steps that can affect the coefficient of friction. The length of the conversion process is one reason why extended and stable slip performance is important. Organic slip additives do not provide this performance.
Further, to support sustainability, the masterbatch reduces waste in several ways: its anti-block properties help prevent wasteful tearing of the film; it is effective at low loadings; and it can potentially replace plastic processing additives often used with PE films, thereby reducing total additive usage.
Polymer modification has always involved a search for balance in order to optimize properties, the cost/performance ratio and usability. Multibase, DOW CORNING's silicone-based masterbatch business, consists of extremely knowledgeable and passionate engineers who relentlessly search for that balance.
In the case of its DOW CORNINGTM AMB-12235 masterbatch, the primary objective was to address customers' desires to achieve consistent, long-term, excellent slip performance for films made with plastomers throughout the various converting steps of the FFS packaging operation. Today, very few additives can effectively lower the COF in highly tacky ethylene resins.
The team also aimed to help customers balance the compatibility and performance of anti-block and slip additives in PE blown film. In the past, customers had to use trial and error to determine which individual additives worked well together, and at which loadings. DuPont formulated its masterbatch to ensure up-front compatibility between the anti-block and slip capabilities and to provide the best ratio of active ingredients. DOW CORNING™ AMB-12235 masterbatch achieves synergistic effects through the right combination and amount of each active ingredient.
An important aspect of additive use is achieving the desired properties without negative side effects. In PE blown film for form-fill-seal packaging, using slip additives to lower the coefficient of friction is critical for efficient processing, yet some traditional slip additives can migrate between film layers and affect downstream operations such as printing and metallization.
Its masterbatch is designed to be used only for the film layer (skin layer) where low COF is needed to prevent adherence to metal rollers during processing. It will not migrate to other layers. For this reason, film containing DOW CORNING™ AMB-12235 Masterbatch in the skin layer can safely be corona treated on the opposite layer even after the film has been rolled.
With this additive, it is also possible to store the film for extended periods or in warm temperature conditions without negative impact on COF. This stability and non-migration give converters a higher degree of flexibility than traditional slip additives.
By using a masterbatch combining two capabilities in one solution that delivers high performance at low loadings, customers can reduce the overall number and quantity of additives that they use. They can also consolidate feeders and prevent waste that can occur when traditional additives are exposed to high temperatures or extended storage.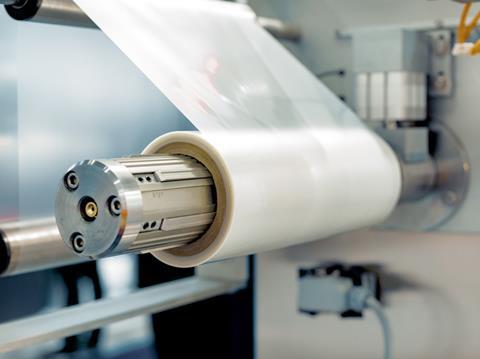 Dupont film processing
'Anti' additives
Christina Normann Christensen, Product & Application Manager, non-food, Palsgaard A/S sees a shift towards more recyclable and sustainable packaging materials as this is also a topic that is top of mind for the end consumers. She stresses that Palsgaard's products fit very well into these trends as they are recyclable and sustainable.
"The continued tightening of legislation in terms of polymers and additives drives the search for and interest in safe solutions with desirably the same performance," she explains. The challenge is to fulfil these high expectations, "but in Palsgaard's case with antistatic and antifog additives we have the fundamental knowledge within our chemistry and have been able to develop and validate the performance of our plant based and food grade additives which is comparable and even superior in performance."
Its additives are quite versatile and can be used in multilayer, monomaterial or thin walled packaging. "So, while they cannot motivate a change from packaging type to another, you are able to use our additive in all the packaging designs," she adds.
Its products are plant based, food grade and produced in CO2 neutral facilities, making them highly sustainable. At the same time, they are added in very low dosages because of the high efficiency which also means, combined with the thermal stability, that when the scrap is mixed with virgin material in the packaging production there is no concern for contamination or discolouration. The same goes for post-consumer recycling where the polymer containing its additives can easily be used as recyclates.
She says, "Our products offer ease of handling and improve appearance with their antistatic and antifogging effects which leads to the packaged products being visually more appealing to customers as they are dust- or fog-free. Thereby, the resources that have been put into the products are fully utilized. Einar® 601 is one of our top antistatic additives which performs excellently across a broad range of PE applications at low loading levels and in low humidity conditions. Einar® 611 offers short- and long-term antifog performance in both hot- and cold-fog PE applications due to the high extraction resistance."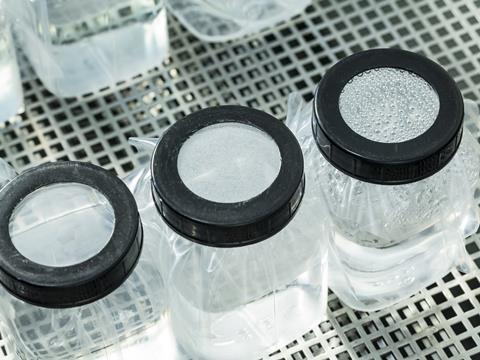 Intelligent solutions and societal changes
Gabriel Chemie also shares a solution it has developed called TagTec, which was launched at the K-Show 2019. "We use special pigments called taggants, to give the polymer an invisible 'fingerprint'. The information contained in the fingerprint can be read using special sensors that we have developed together with a partner. In this way plastic parts can offer more functionality such as material identification (i.e. is it PP or LDPE or PET?), anti-counterfeit functionality (is the part a fake?, Who manufactured the material (quality complaints)? ), and material tracking (machine parameters of manufacture can be stored in the plastic and identified throughout the lifetime of the product)," says Mark Hannah.
He also points towards a clear trend in society towards veganism, especially amongst consumers in generation Z, which has led us to the development of vegan certified masterbatch, especially for the packaging of food and medical products. In addition, Gabriel Chemie is addressing the increasing demand for Halal products with a Halal certified masterbatch range.
Increasing pressures
Dr Julien Renvoise shares that immobility of markets and a focus on lowest short-term cost (incumbent technology is often mature and cost optimized through economy of scale, whereas innovative solutions carry development costs and often start at suboptimal scale – often also requiring many players along the value chain to invest in capital, know-how, development), poses a challenge to innovation in this field overall.
Mark Hannah leaves us with a stark thought: "Resources are always an issue. There are many new developments needed in masterbatch and especially in the circular economy discussion has increased the pace of development."
Finding and retaining the right talent, as well as funding new developments, is becoming increasingly challenging as the global economy is slowing down and the public image of plastics has come under pressure.