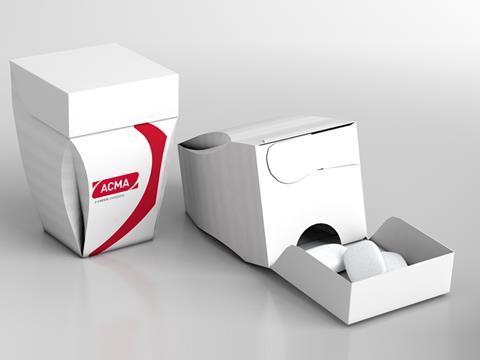 ACMA is launching Ecoshell, a new paper-based packaging solution created for the confectionery industry.
Developed in partnership with the Coesia Packaging Innovation Center, Ecoshell is a package characterized by an innovative design that aims to combine a convenient dosage function with ease of use, without giving up on aesthetics.
According to ACMA, its new technology generates shapes that are not commonly feasible, guaranteeing uniqueness in appearance and great flexibility, thus allowing the customers to achieve an extensive degree of customization.
Ecoshell is scalable in size and proportions and flexible to different commercial purposes, depending on the type of product to be packaged.
The solution is suitable for the packaging of food products such as chewing gum, dried fruit, and candy. At the same time, it can also reportedly be used for items such as supplements and personal care products. The package is also designed to facilitate single dosage, as well as products such as cotton buds or stick snacks.
In a statement, the company commented: "According to a report published by the Boston Consulting Group and Trivium Packaging, over 70% of US consumers are willing to spend more on a product in order to have a sustainable package."
"Therefore, sustainability is the real fulcrum around which the whole Ecoshell project revolves – it is in fact a paper-based package, capable of replacing plastic solutions which are commonly used, resulting in a reduced environmental impact.
"All these features make Ecoshell one of the leading solutions in ACMA portfolio, which today more than ever can offer comprehensive packaging solutions to the consumer goods market, able to meet different needs in the name of sustainability."