Jack Whitfield, senior associate and patent attorney at European intellectual property firm, Withers & Rogers, takes a look at a recently granted patent that protects lenses for glasses more efficiently.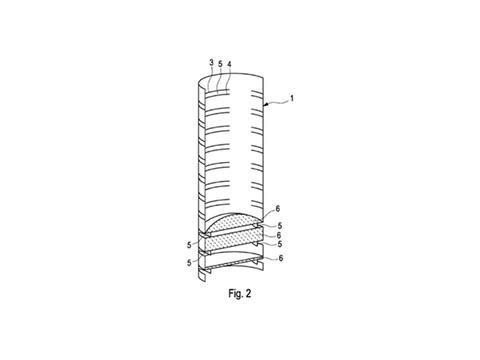 A recent innovation has found a way to reduce the use of packaging material for spectacle lenses, which have traditionally been individually stored and transported. The novel packaging solution is described as more economical and sustainable, while ensuring the lenses are properly protected.
Specifically, the granted patent from Carl Zeiss Vision (EP3997001B1) protects the use of a flexible paper sheet for storing multiple 'optical elements' as well as methods for packing them. The paper sheet is provided with five inwardly projecting portions to support the lenses. These sheets can be stacked, with each lens separated from the next by a paper portion. The patent also protects a method of packing optical elements into such a package. Manufacturing the packaging is simple, as the projecting portions (Fig. 2) can be formed by providing cuts in the material to define the portions before they are pushed inwardly to support the lenses.
The packing and unpacking of lenses is also simplified compared to previous solutions. The process can even be automated by using, for example, a robot with a suction arm.
The patent estimates that this method can reduce the amount of packaging material required by two thirds compared to solutions that package each lens individually. There is no requirement to include separate inlays between the lenses, providing further material reduction. In addition, all necessary information can be pre-printed on the paper, which avoids the need for stickers. A perforated strip or similar can be included to make the package easier to open.
An increasing number of countries and regions are introducing regulations restricting the use of non-biodegradable and non-compostable packaging, meaning companies need to find more eco-friendly alternatives to their current products or face penalties for non-compliance. By investing in patent protection, Carl Zeiss can exclusively use this invention, potentially giving them a competitive advantage in the market.