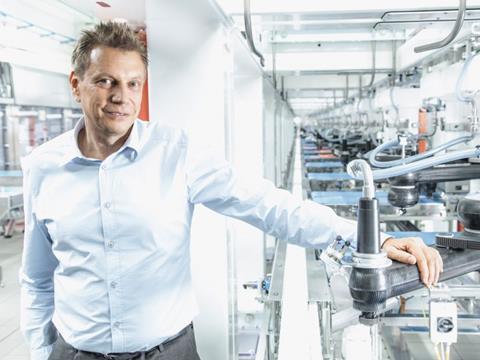 Q&A with Ralf Schubert, Managing Director at Schubert, speaking about the opportunities created by modular components.
The concept of offering packaging machines as modular systems and thereby achieving the greatest possible flexibility in top-loading tasks, has been the cornerstone of Schubert's successful corporate history since the company was founded 50 years ago. Since then, the family-run business has continuously advanced its modular machine engineering. Managing Director Ralf Schubert is convinced that the opportunities created by modular components are far from being exhausted. In this interview, he talks about the benefits of modularity and the opportunities it provides in the digitisation of industrial production.
Mr Schubert, why is modularity superior to other concepts?
Modularity delivers lasting benefits. With modular systems, the individual components are already known and tested. You know whether the principle works, and you can therefore save time and costs in systems planning. If specifications such as dimensions and the number of boxes to be filled are known, the line can then be easily assembled accordingly. In my experience, the best concepts always arise when using standard modules. And it is with this in mind that our designers always use the standard catalogue as a building block – with only the robot tools being developed for each task.
A big plus is that modules can be easily combined or replaced. This allows the high-level flexibility that is increasingly important for many customers. For example, if a customer needs more performance, we simply add another sub-machine to the existing system. Working with other packaging solutions, customers may actually need to invest in an all-new system. With Schubert solutions, however, extensions are intrinsic to the system design and this definitely pays off for customers in the long run.
What is Schubert currently working on in the area of modularity?
Today, with our seven modules, we can perform all standard tasks in the top-loading area. And this is why we are now also moving into special processes with our modules, which would usually be addressed with our TLM systems. This includes, for instance, filling coffee capsules, thermoforming and sealing plastic trays, or filling shampoo bottles.
Since we don't think in terms of machine types, but rather in components, we can simply incorporate, for example, a thermoforming unit, a punching unit or a filling unit. With these components, we also make use of standard solutions that can be easily integrated into a TLM line, without the products having to be removed and grouped again. With this principle, we remain faithful to our promise to always offer the most flexible solution on the market, while eliminating the interface between primary and secondary packaging.
What benefits does modularity offer in the digitisation of industrial production?
Modularity brings unique advantages to the configuration. One example is the TLM configurator, which we use for planning and which is readily available on our internet site. We now want to take the digital representation of our modules a step further. In the form of a digital twin, we are currently depicting a fully functional simulation of our machines on a software platform. This platform is then not only the basis for our internal structural design, but it will also be available to the customer, for example, for their production planning.
In the form of the digital twin, it is possible to test – quickly and cost-effectively – which solution is best suited for the task, or what changes are needed. This saves time and money through test runs in a virtual environment. And errors can be detected and resolved prior to commissioning.
From your perspective, what would the perfect module look like?
Absolute modularity would be a given if fully flexible robots were to work on the lines. A universal robot would represent the perfect module. It would be mobile and could be used at different positions, depending on the task at hand. In this scenario, a line would consist of two modules: the conveyor belt and the robot which would automatically equip itself with the right robot tool. This would represent a self-configuring machine with maximum flexibility. Let's see what we will be offering in a few years – with increasingly intelligent controls and further reduced mechanics.
More info: