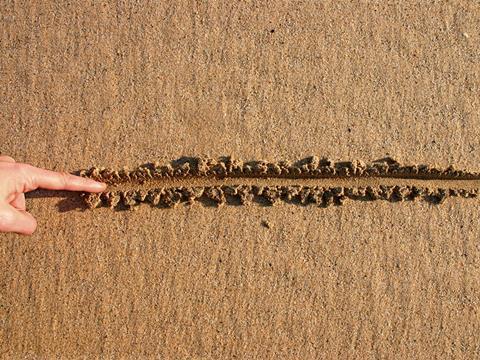 Following the announcement that over 250 major stakeholders have signed up to the Ellen MacArthur Foundation's groundbreaking pledge, Tim Sykes spoke to Sander Defruyt (lead, New Plastics Economy initiative) about the vision and its practical implications.
The Ellen MacArthur Foundation (EMF) introduced the New Plastics Economy Global Commitment in Bali on 29-30 October at the Our Oceans conference, establishing a new benchmark in the drive for a circularity in polymers. Signatories spanning the value chain include leading brand owners Unilever, Nestlé, Coca-Cola and Walmart, major players in plastic packaging such as Mondi, Amcor, Borealis and ALPLA, waste management specialists, academica and public sector bodies. All of these organisations are united behind shared principles:
Elimination of problematic or unnecessary plastic packaging through redesign, innovation, and new delivery models is a priority
Reuse models are applied where relevant, reducing the need for single-use packaging
All plastic packaging is 100% reusable, recyclable, or compostable
All plastic packaging is reused, recycled, or composted in practice
The use of plastic is fully decoupled from the consumption of finite resources
All plastic packaging is free of hazardous chemicals, and the health, safety, and rights of all people involved are respected.
The Global Commitment is a radical upscaling, rather than a new direction, in the New Plastics Economy project. "Over the past four years the Ellen MacArthur Foundation has been rallying businesses and governments behind a positive vision of a circular economy for plastic," New Plastics Economy's lead Sander Defruyt told Packaging Europe. "In January 2018 we brought together 11 leading companies committed to work towards 100% reusable, recyclable, or compostable plastic packaging by 2025. By launching the New Plastics Economy Global Commitment, the Foundation and UN Environment have taken this momentum to the next level."
Targets and investment
"The Global Commitment draws a line in the sand in the fight against plastic waste and pollution by uniting businesses and governments from around the world to tackle plastic pollution at the source instead of only addressing the symptoms," he continued. "It does so by eliminating the plastic items we don't need; innovating so all plastic we do need is designed to be safely reused, recycled, or composted; and circulating everything we use to keep it in the economy and out of the environment. It is the largest effort ever to mobilise businesses behind one vision and one set of concrete 2025 targets that can be pivotal to help end the plastic pollution crisis: the more than 250 signatories together cover 20% of the global plastic packaging market and more organisations are signing up every day since the launch."
The Commitment sets minimum targets for signatories (details of which can be found on the New Plastics Economy website) and details of progress and concrete actions made by each individual organisation will be reported. The EMF and UN Environment plan to work with members of the commitment to help meet targets, and also to review and raise ambition levels every 18 months. According to Sander Defruyt, such leadership is likely to include fostering collaborative projects to overcome core challenges – for example, moving away from problematic or unnecessary packaging, or experimenting with new delivery models to get products to people without relying on single-use packaging.
The vision is underpinned by investment as well as concrete goals. Among the signatories are five venture capital funds that have committed to invest US$200 million by 2025. Moreover, some 15 financial institutions, including the European Investment Bank, with a combined US$2.5 trillion in assets under management have endorsed the Global Commitment: evidence according to the EMF that the investment community puts plastic high on its agenda.
Reuse vs recycling vs composting
The text of the Global Commitment is agnostic about the relative merits of reuse, recycling and composting. "All three of these strategies will be necessary to achieve a circular economy for plastic, no one single approach can solve the issue of plastic pollution by itself," Sander commented. "We cannot simply recycle or compost our way out of the challenge we face. We need to start by eliminating the plastic items we do not need – the throwaway straws, cutlery and cups; unnecessary packaging and items that can be replaced with better alternatives. For the plastics we do need, innovation is necessary to ensure that all the items put on the market stay in circulation and never end up in the environment. For this, we have to prioritise reuse and ensure that all plastic items are fully recyclable or compostable. The latter not being a blanket solution but a viable alternative for a few targeted applications."
So all approaches are valid – but reuse would appear to be first among equals. "We feel that reuse businesses modes and applications are still underexplored, probably due to the association of reuse with old-fashioned practices or being backwards," Sander elaborated. "The opposite is true however. The brilliant reuse solutions we see emerging are based on innovation in a range of fields. In the IT sector, CupClub for example is using app-based technology to run a reuse drinking cups model. In the materials sector, Splosh uses dissolvable pouches containing a small amount of concentrated detergent. By mixing this with water, you can refill your home cleaners, washing up liquid, or washing detergent, cutting plastic waste by more than 90%. In the retail sector, Czech technology company MIWA provides an innovative system that allows transporting, selling, and purchasing goods with a minimum amount of packaging waste. These are just a few examples of the potential of reuse. Unfortunately, the exploration of such models receives too little attention currently, but we believe significant business opportunities can be captured in this area, as set out in our second report, The New Plastics Economy: Catalysing action."
The ticking clock
Meeting the ambitious goals of the Commitment will require fast action to pluck the low-hanging fruit. "Many signatories are capturing quick wins and we strongly encourage others to follow their lead," Sander observed. "For example, M&S is removing single use plastic cutlery and straws this year. Colgate Palmolive will eliminate PVC packaging by 2020 and others have eliminated PVC from their packaging already. Eliminating such unnecessary and problematic plastic is something that can be done very quickly. We encourage all signatories to prioritise actions like these as they can have a significant impact in a minimum amount of time."
However, the reality is that we can only reach circular economy nirvana by aligning industry and government to develop rigorous strategies and systems to deal with irreplaceable single-use plastic applications. "This takes time," concluded Sander. "That's why the Global Commitment's common vision and 2025 targets are so important and why we encourage more businesses and governments around the world to sign up and join us on this journey."
---
Major signatories within the packaging value chain have welcomed the Global Commitment. Mondi has said it will boost the use of recycled content in its products to ensure a minimum of 25% PCR is incorporated across all its plastic packaging by 2025. CEO Peter Oswald commented: "We are all well aware of the challenge facing our oceans and landfills as a result of poor waste management. But plastic should never become a waste product, it should retain its economic value. As business leaders we need to seize this opportunity to make a positive difference, not only for the world we live in today but for future generations too."
Another signatory, Amcor in January 2018 became the first global packaging company pledging to develop all its packaging to be recyclable or reusable by 2025, and it recently announced a breakthrough polyolefin-based recyclable, high-barrier packaging film. Meanwhile, Borealis has committed to increasing its recycled plastics volume by more than fourfold by 2025.